Win $27K in Guns & Gear with "12 Days of SHOT" Grand Prize Drawing!
This Grand Prize is YUGE!
Our 12 Days of SHOT $50K Guns & Gear Giveaway is drawing to a close. So far, we've given away just about $22K in guns and gear to several lucky winners. If you'd like to check to see if you're one of them, our winners list is here! Didn't win? That's okay, because the good news is you can still enter for a chance to win the Grand Prize! Valued at over $27,900, it's an amazing grand prize that includes all of the products listed below. The Grand Prize giveaway begins NOW and continues through 11:59 p.m. on 2/28/23.
Here's what you can win. It's valued at over $27,900!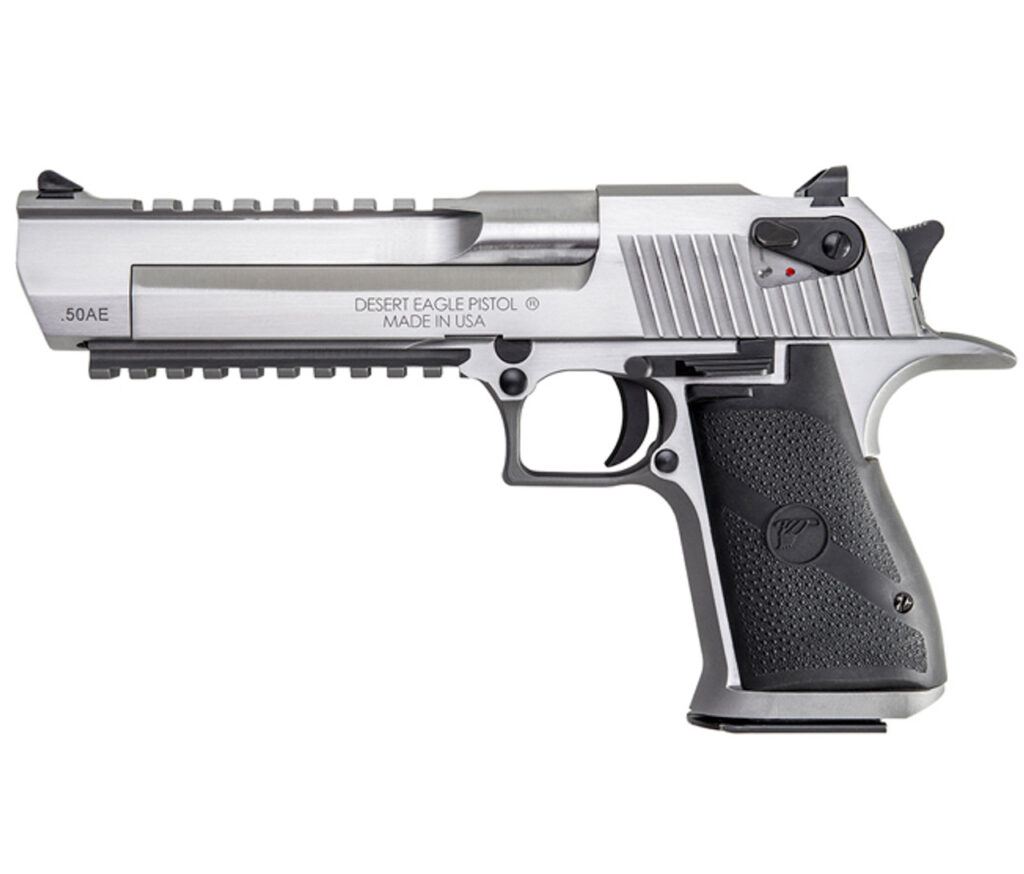 Magnum Research
Desert Eagle, .50 AE, Stainless
Desert Eagle® Mark XIX Pistol, .50 AE, Stainless Steel with Picatinny Bottom Rail, Weaver Style Top Rail, Black Appointments
6″ barrel, 7 round magazine

Springfield Armory
SAINT® Victor 9mm Carbine
The SAINT® Victor 9mm Carbine is designed to deliver a PCC (pistol caliber carbine) with all the performance and capabilities you have come to expect from the SAINT Victor line. From its full-length free-floated handguard with ample M-Lok® real estate for accessories to its forged upper and lower receivers designed around pistol-caliber cartridges, this 9mm carbine is built to deliver.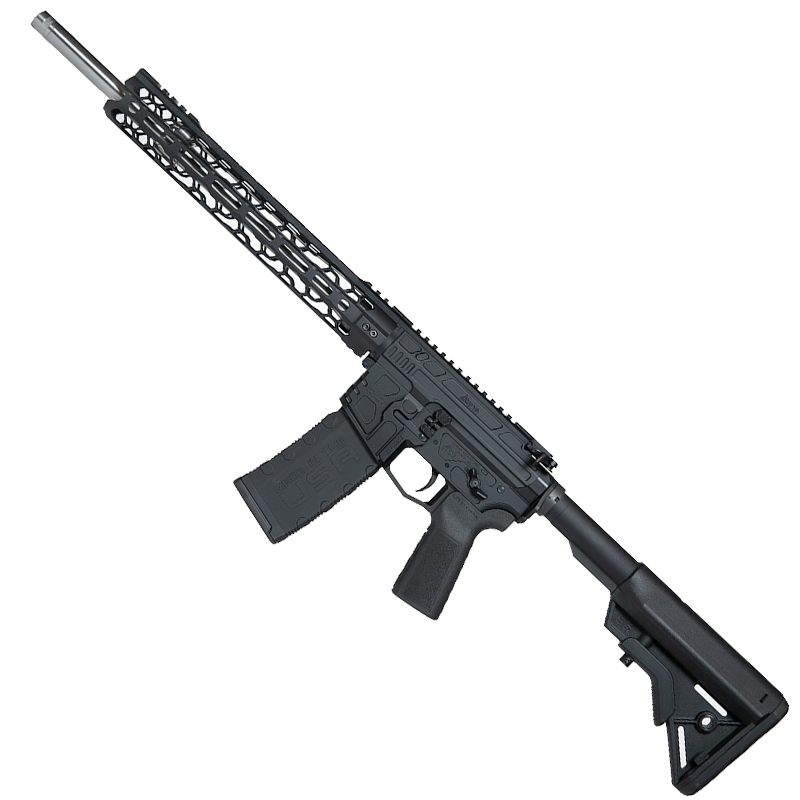 Odin Gun Works
ODIN Tactical Rifle | OTR-15
Known as a premier AR-15 accessory manufacturer, ODIN Works is now pleased to enter the complete AR-15 market with the introduction of the OTR-15 (ODIN Tactical Rifle | AR-15). The OTR-15 lower is machined in house from billet 7075 aluminum with exacting tolerances, features and style in mind. Machined to match the ODIN Works billet upper, the OTR-15 receiver sets provide a best in class chassis that an ODIN Works rifle deserves to be built on.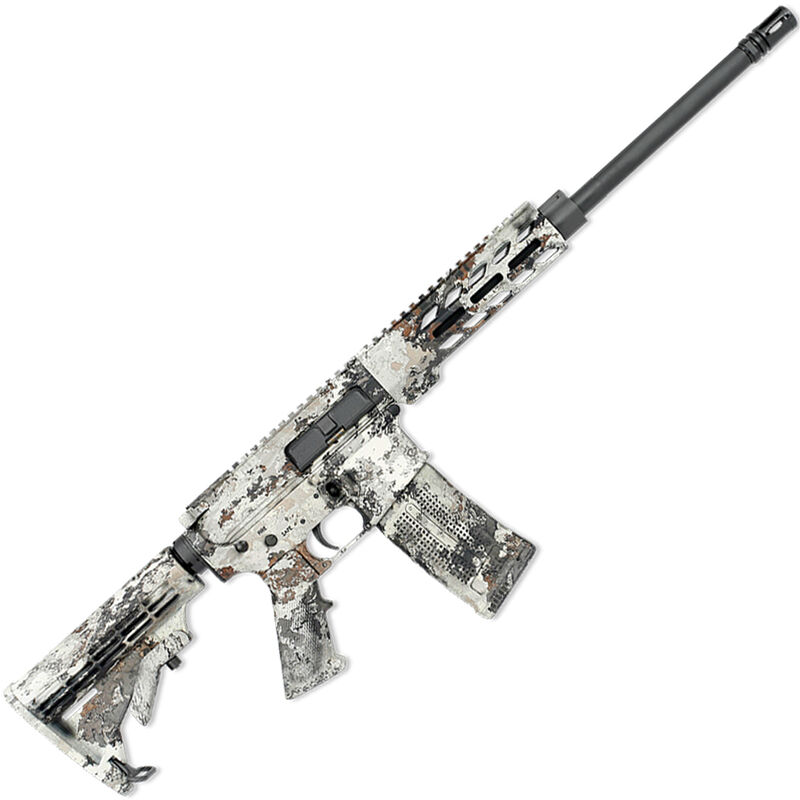 Rock River Arms
LAR-15 Alpine RRAGE Carbine, .223/5.56 NATO, Alpine Camo DS1850A
Rock River Arms, the leader in specialized Modern Sporting Rifles, has developed a 5.56mm semi-auto that advances the clean, trim look and performance of the monolithic-style upper receiver/handguard design. The RRAGE Carbine builds on Rock River Arms' new extruded flat top upper receiver. Matched to the receiver is a 6061T aluminum free-float handguard that blends almost seamlessly with the upper to provide an elegant, unitized profile and balanced strength and rigidity across the optics platform. The carbine length handguard boasts a full-length MS1913 top rail and features the popular M-LOK rail configuration for easy accessory adaptation. The M-LOK system along the side and bottom surfaces lets shooters run a clean handguard or add only the rail accessories needed to help maintain a sleek, snag-free signature.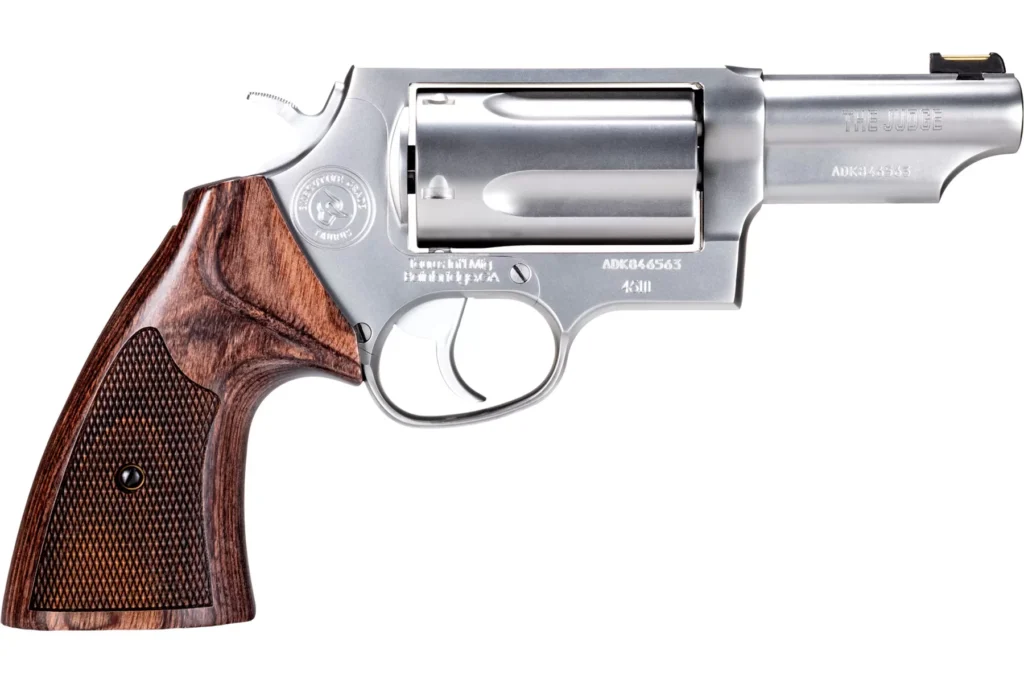 Taurus
Executive Grade Judge
From the boardroom to the backwoods, the new Taurus Judge Executive Grade is ready for whatever you throw at it.
We took the award winning, revolutionary Taurus Judge and upgraded it, making it part of our hand-fitted line of Executive Grade models. Each Judge Executive Grade is assembled by hand in a separate room by a team of specially trained gunsmiths, ensuring that the fit and finish is exquisite.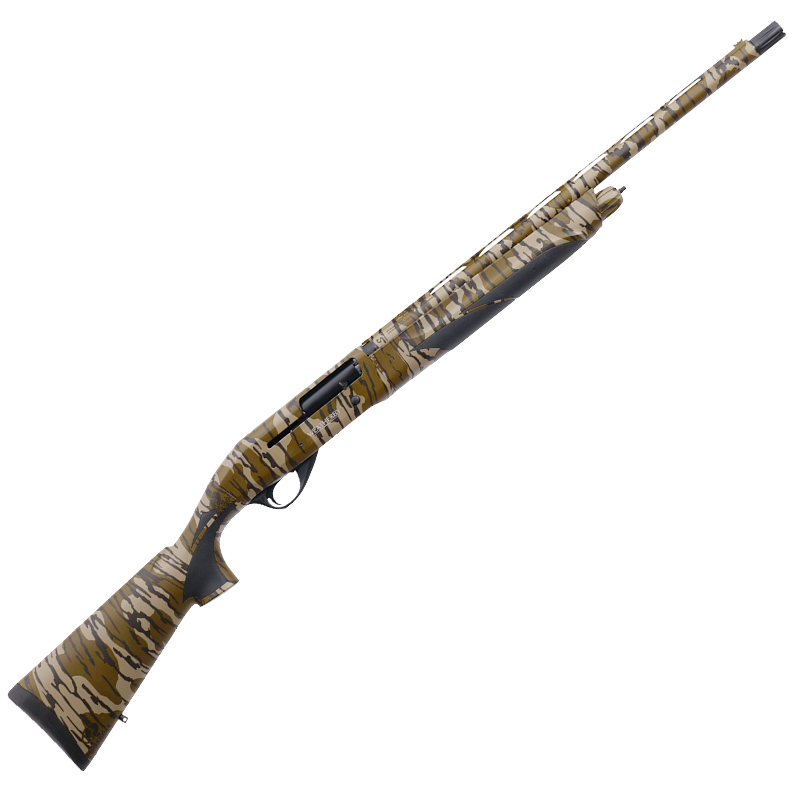 Weatherby
Element® Turkey
The Element Turkey's factory-equipped choke is an extended Full that is fluted for tool-free removal and installation, while three flush chokes and a choke tube wrench are also included (constrictions Improved Cylinder, Modified and Full). Built to run modern 2 ¾" and 3" magnum loads, the Element has front and rear QD sling studs to enable the quick addition of a sling. A light-gathering fiber optic front sight sits atop its serrated and ventilated rib and rubberized grip panels lend traction in wet conditions.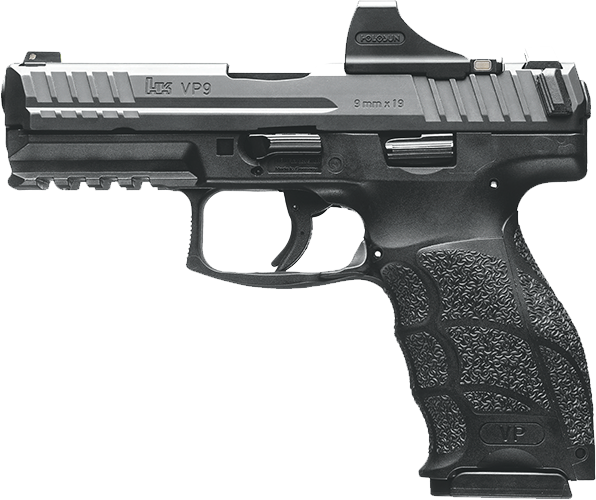 H&K
VP9 SK w/ Holosun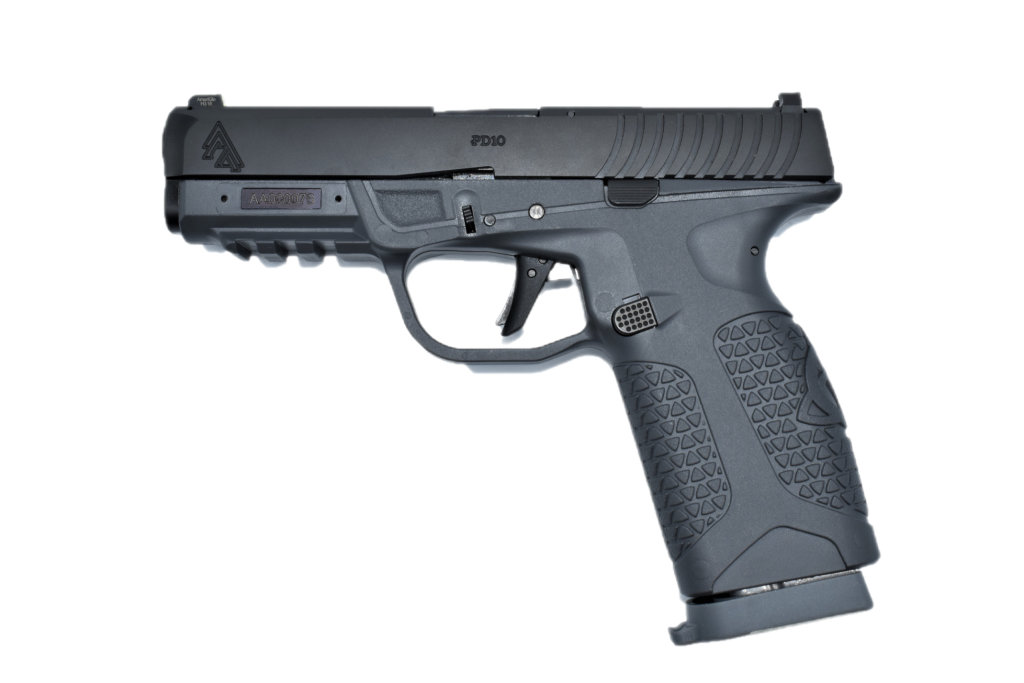 Avidity Arms
PD10 W/ Optic Cut
Carryability means that the gun must not be too large or too heavy to comfortably conceal. The PD10 accomplishes this with a surprisingly thin grip, holding a metal single–stack
magazine that still boasts a 10+1 capacity for ample firepower. Shootability means that the pistol makes it easier for a person to hit their target efficiently. A defensive gun must be simple and comfortable to use. It must be large enough to positively grip with all fingers for full control of the gun, and the controls need to be easy to manipulate safely.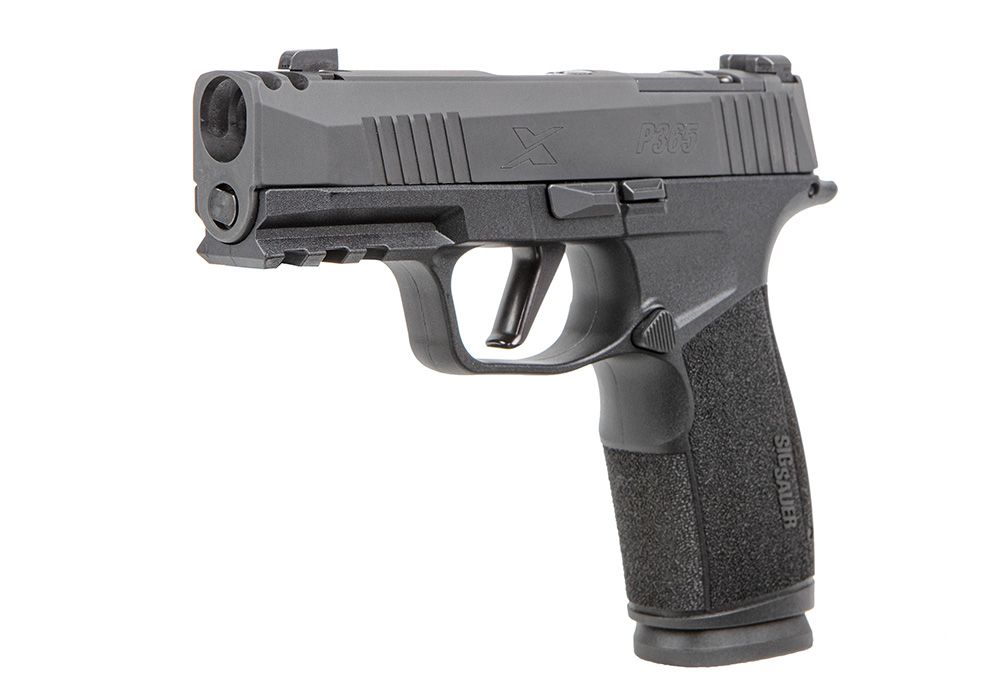 Sig Saur
P365-XMACRO
With an innovative new magazine design the P365-XMACRO packs a full-size 17+1 round capacity into the thin, iconic profile of the P365. The P365-XMACRO is also more shootable, with an integrated compensator that reduces muzzle flip and makes follow-up shots faster and more accurate.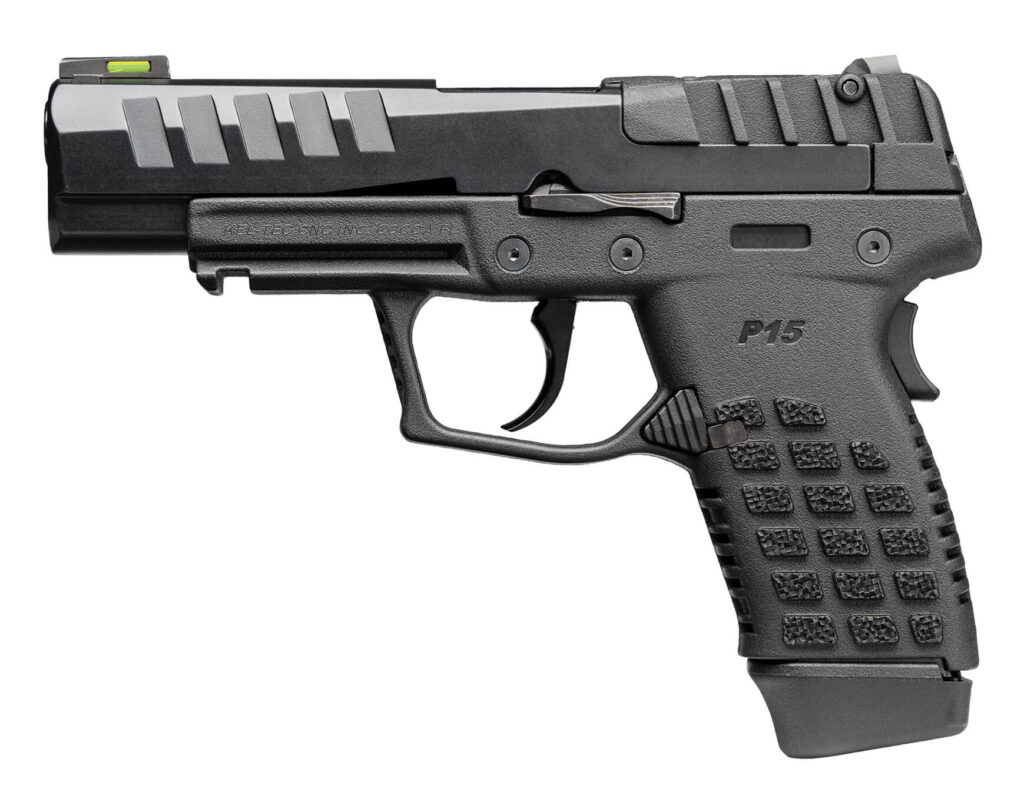 KelTec
P15™
Compact and maximum firepower generally don't go hand in hand, however the KelTec P15 offers both in a uniquely small package. This pistol stands at just 5 inches tall, 6.6 inches long and 7/8th inches wide while still housing a 4 inch barrel.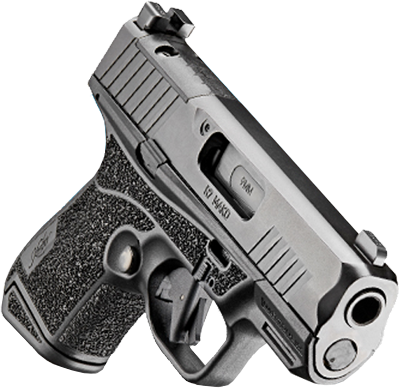 Kimber
R7 MAKO
There's nothing quite like Kimber's new, uncompromising R7 Mako. Attention to detail, fit, and finish once reserved for the industry's finest 1911s is now available in a 9mm subcompact, polymer striker fire. The R7 Mako is what every concealed carry handgun should be.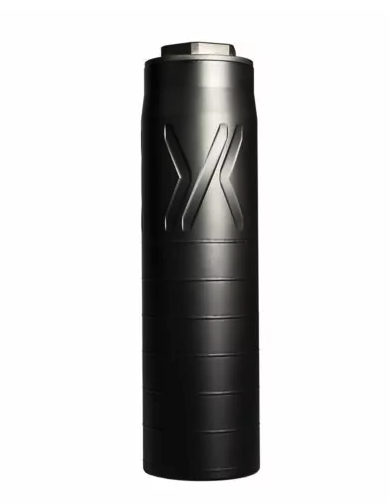 Silencer Central
Banish Backcountry
Rated for calibers up to the .300 Remington Ultra Magnum (RUM), the Banish Backcountry utilizes six baffles that drop the decibel level down to 135 dB.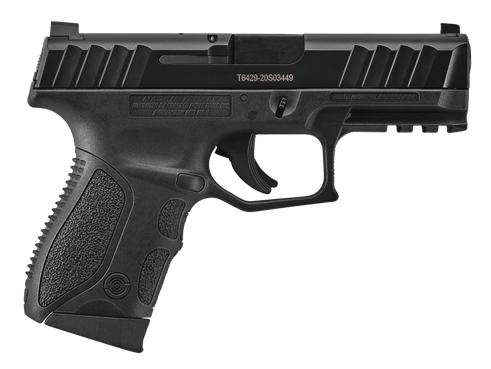 Stoeger
STR-9C Compact Semi-Auto Pistol
Every day tough meets every day carry  Stoeger's STR-9 semi-automatic pistol, Model# 31733 10+1 sets the  personal defense pistol bar high with features  such as an integrated rail, internal safety, reversible magazine release, optimized slide serrations, three-dot sight system and enhanced ergonomics. The STR-9C  carries on the legacy by offering all the full-size  features, power and reliable performance in a more compact version optimized for concealed carry.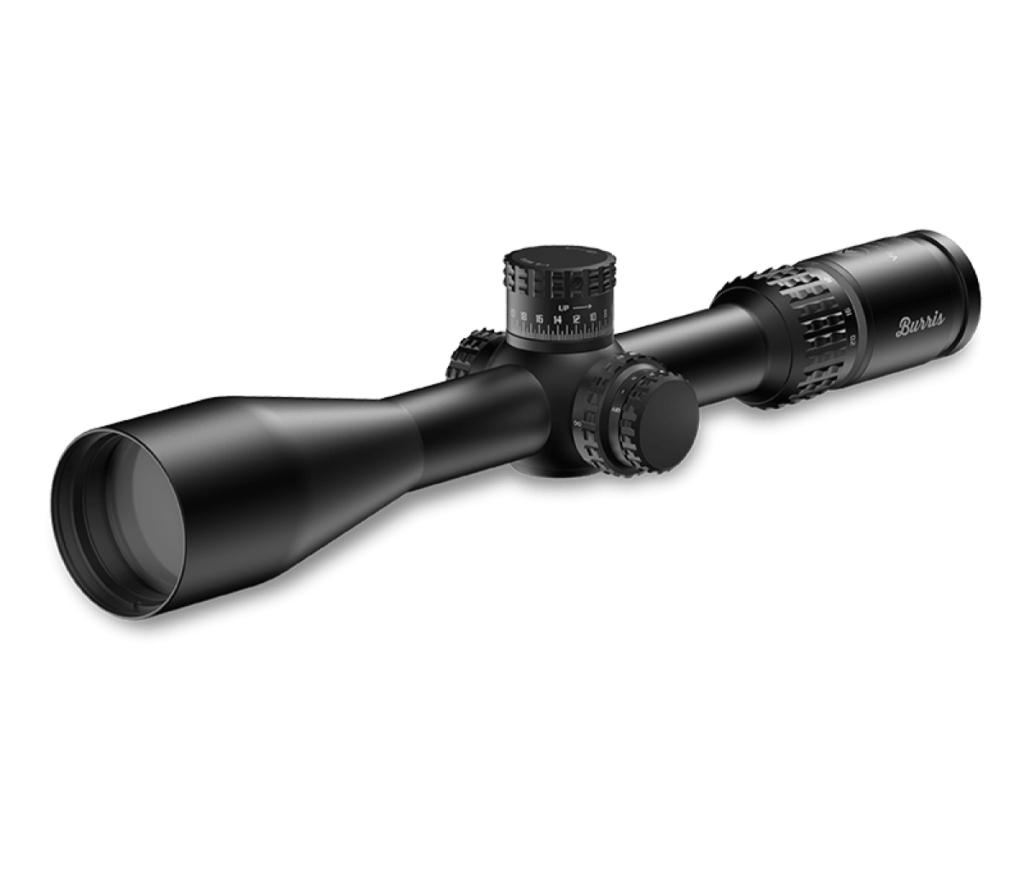 Burris
Veracity™ PH Riflescope 4-20x50mm
Years of development and pushing the limits of what is possible in a rifle optic has led up to this moment. Introducing the VeracityPH from Burris, the perfect combination of reliability, quality, and technology delivering the fastest and most precise aiming solution in a hunting optic, ever. Dial to distance with confidence and let Burris do the math.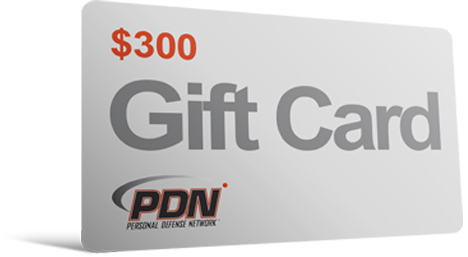 Personal Defense Network
PDN Gift Certificate
Use this visa gift card at Personaldefensenetwork.com or anywhere else!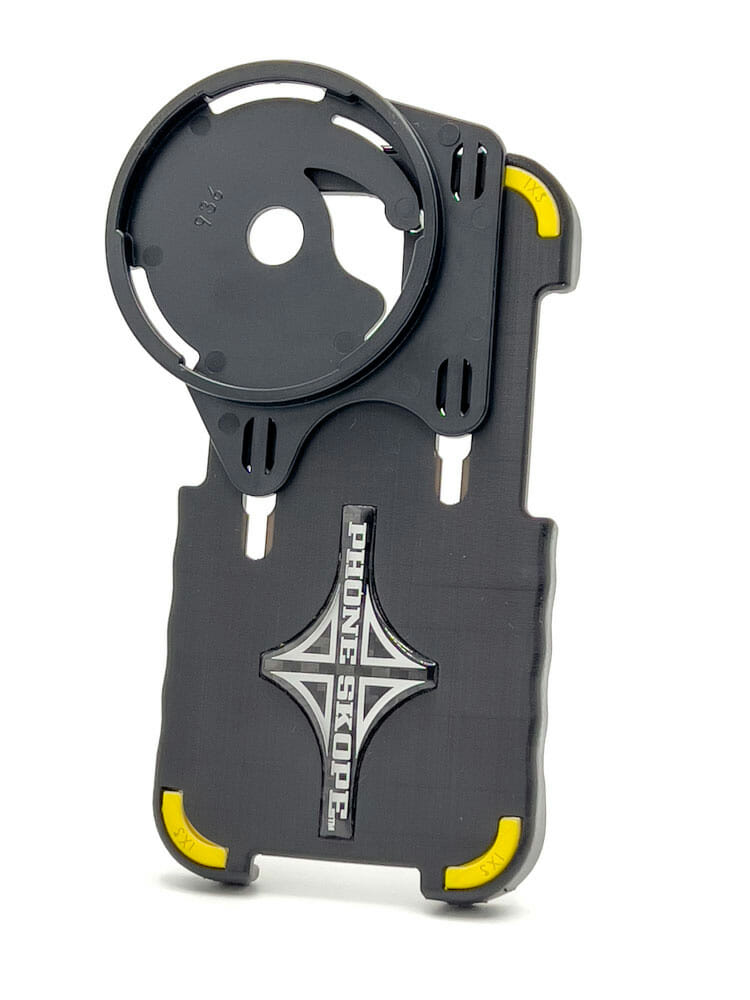 Phone Skope
Phone Case : iPhone 14 Pro Max
The iPhone 14 Pro Max Phone Case is one of two parts needed for the Phone Skope Digiscoping Kit (you also need an Optic Adapter, which is sold separately). When combined with an optic adapter, this phone case will automatically center your phone camera on your optic lens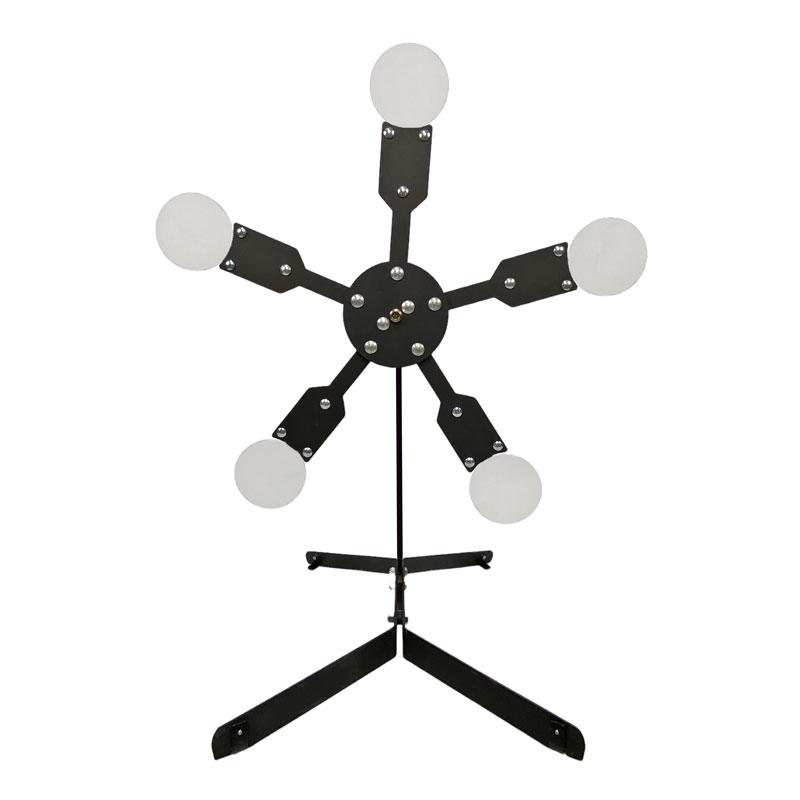 Challenge Targets
Portable Texas Star Target – Round Plates
Our GEN2 Portable Texas Star Target is lighter and more portable than the original version. We've also added a locking feature which prevents the hub from spinning so shooters can build their confidence before learning to engage moving targets. The 6″ plates are held in place with a unique spring retention system. When shot, the plates are released from the retention pocket and fall to the ground. The change in weight distribution causes the hub and plates to rotate. The precision machined shaft and dual pillow bearings maximize the speed and change of direction with each successful shot. Resetting the target is quick and simple. Just lift the spring and insert the stem of the plate into the pocket. One person can reset all five plates in about 20 seconds.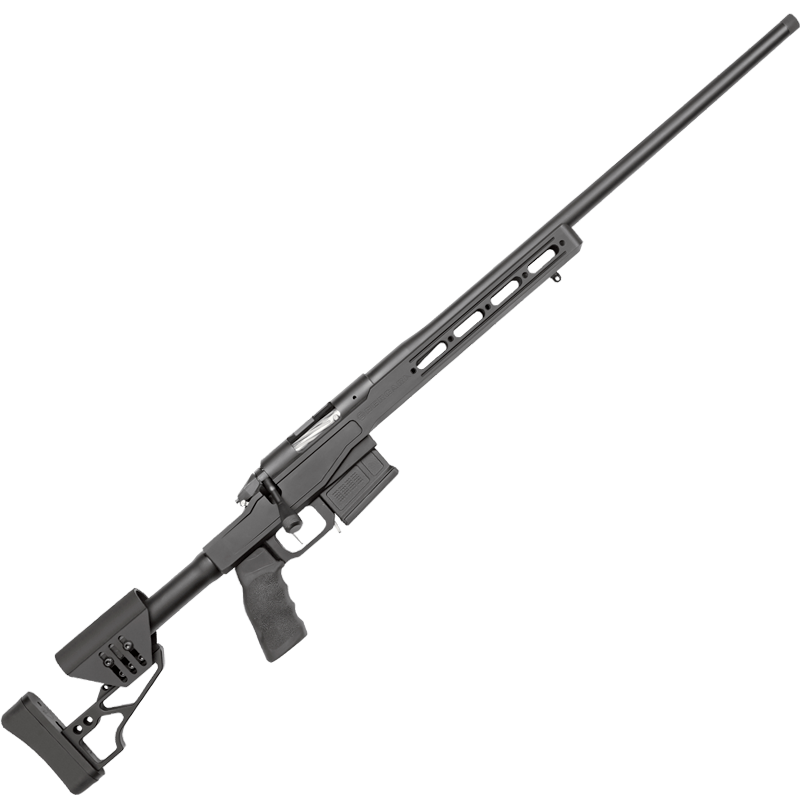 Bergara
Premier LRP Rifle 6.5 CM
The Premier Series LRP rifle features a Bergara Branded aluminum chassis made in partnership XLR Industries. This Chassis is CNC machined from solid 6061 T6 aluminum and features an AR15 style grip, adjustable length of pull, adjustable comb height, and the butt plate can be canted to give a precise fit to the shooter in virtually any shooting position. What makes this rifle so special you may ask? Well, Bergara uses Premium 416 stainless steel barrels, which receive a proprietary honing process at our barrel-making facility, at which point they continue through another four stages of production to produce the most accurate production barrel we could possibly make. Upon completion, the barrel receives a Cerakote™ finish and is coupled with the Bergara PREMIER action. This process is completed at our facility in Lawrenceville, GA USA.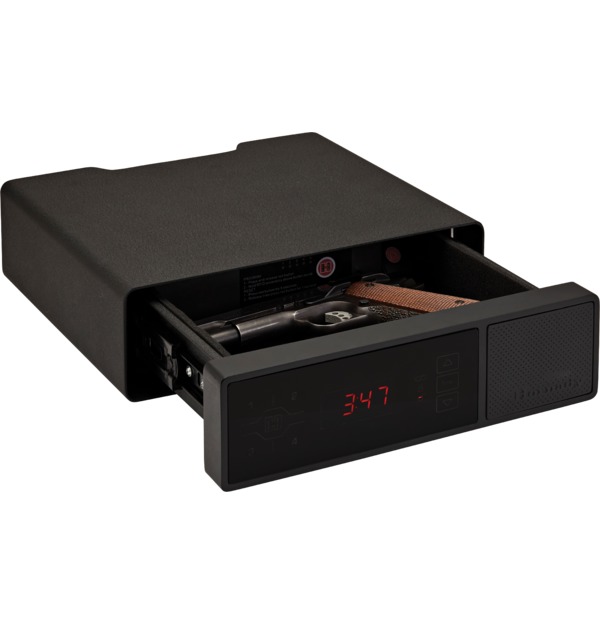 Hornady
RAPiD® Safe Night Guard®
Hornady® introduces the perfect bedside companion. The RAPiD® Safe Night Guard® keeps your handgun as close as your nightstand. RFID technology offers the quickest, most dependable access to your firearm while providing unmatched security from unauthorized users. Plus, the Night Guard® offers the additional functionality of a clock and USB charging ports.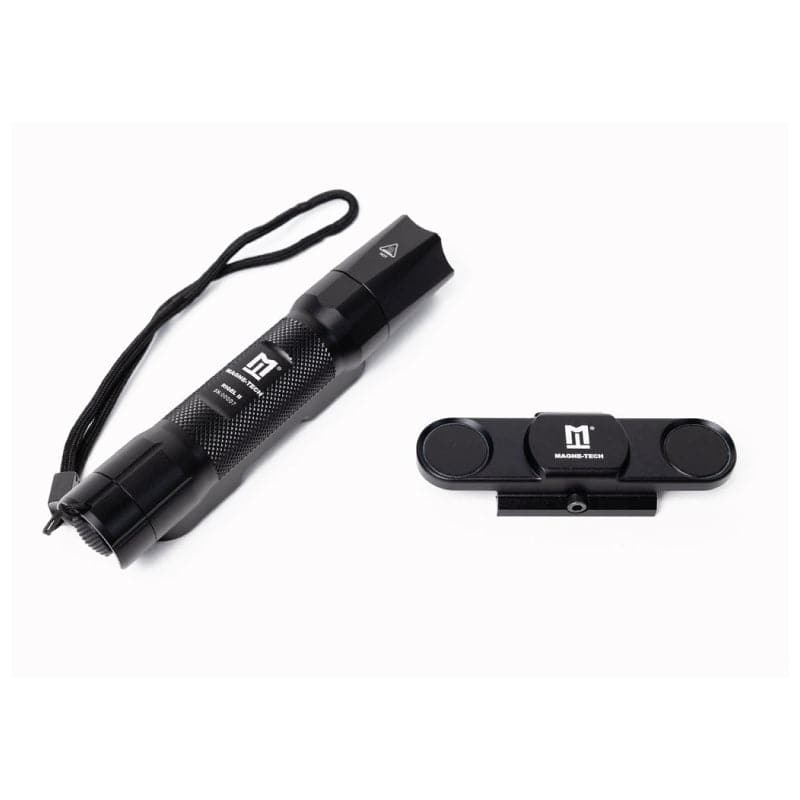 Magne-Tech
Rigel II-P: 1100 Lumen Magnetic Tactical Light Kit for Picatinny Rail
Rigel II-P is our 1100 lumen, magnetic, tactical, rechargeable flashlight kit designed for Picatinny rails. Install the Picatinny weapon mount using the included hardware and quickly attach or detach the self-zeroing Rigel II tactical light or any of our other accessories with ease. The light can also easily be attached to any steel surface in your home or any one of our various mounts.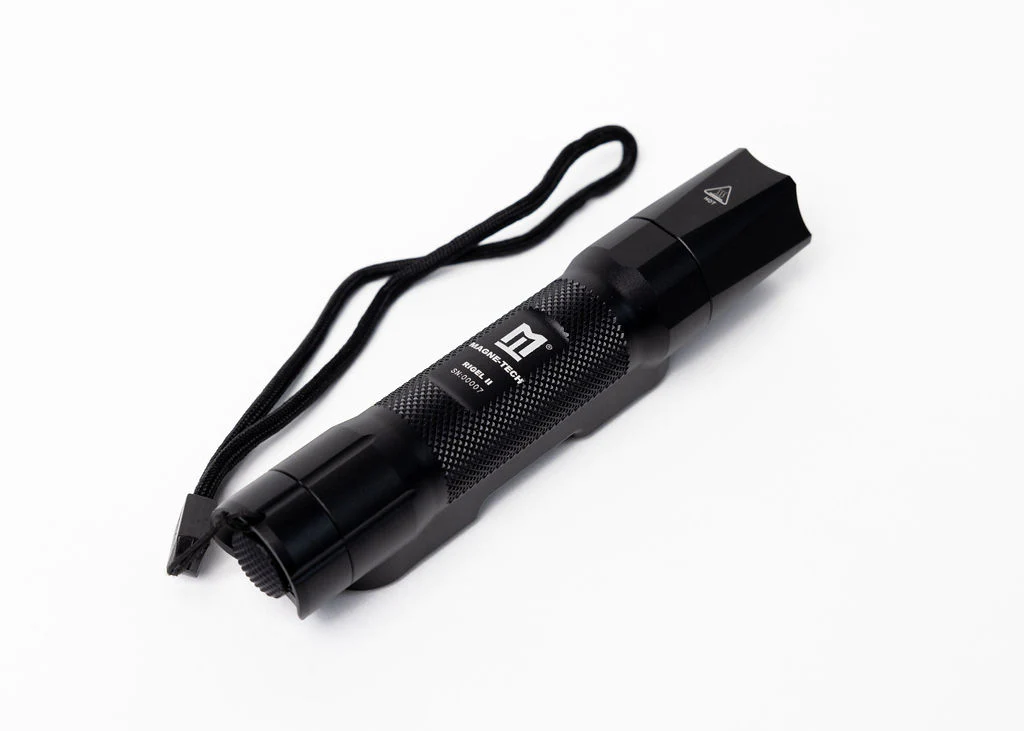 Magne-Tech
Rigel II: 1100 Lumen Magnetic Tactical Flashlight
Rigel II is our newly designed 1100 lumen, magnetic, tactical, multi-application flashlight. Rigel II has been designed from the ground up using high-strength 7075-T6 aluminum alloy, hard anodize finish, and integrates our patented magnetic mount into the body of the flashlight making it sleek and versatile. Use it as a weapon light, helmet light, camping light, home light, or EDC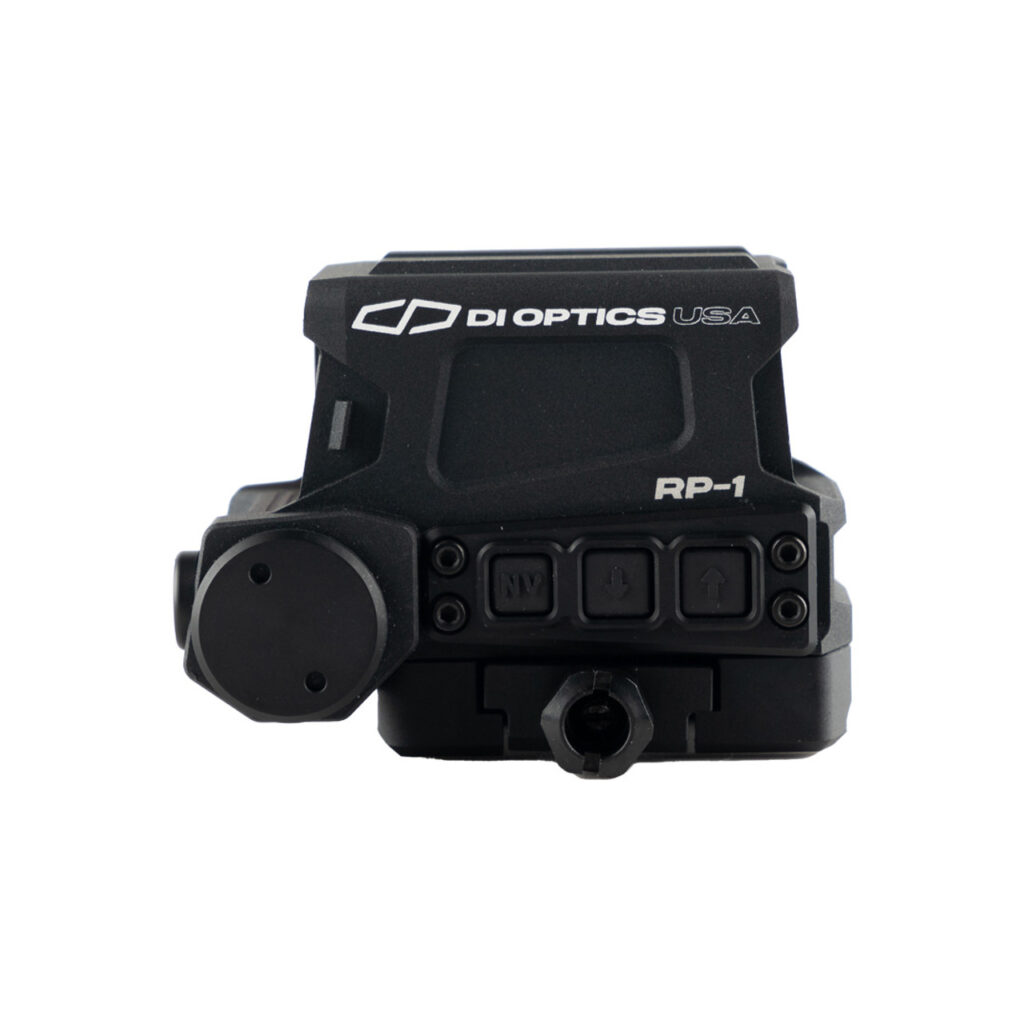 DIOptics USA
RP-1 Red Dot Sight
DI Optics USA RP-1 Red Dot Reflex Sight with night vision compatibility. Specifically designed for sports shooting, hunting and tactical purposes.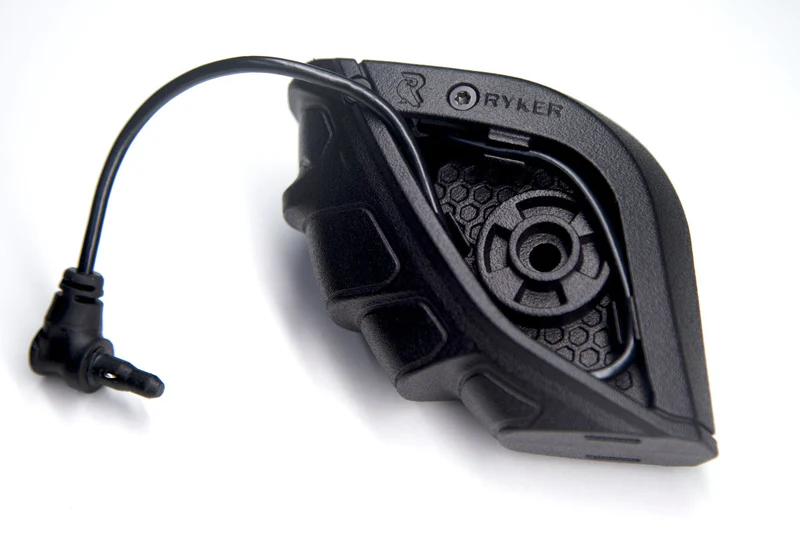 Ryker
Ryker CTRL
Control your light, Control your laser, with the Ryker CTRL.
The Ryker CTRL is the latest innovation in the Ryker Grip family. It has been redesigned from the ground up with a mil-spec switch built into the thumb pad and enhanced texture on the finger pads and palm surface for superior performance. The Ryker CTRL is the ultimate in control for your rifle accessories.
The Ryker CTRL also comes with a M-Lok mount and 3 of our proprietary cable management clips to route your cables and prevent snags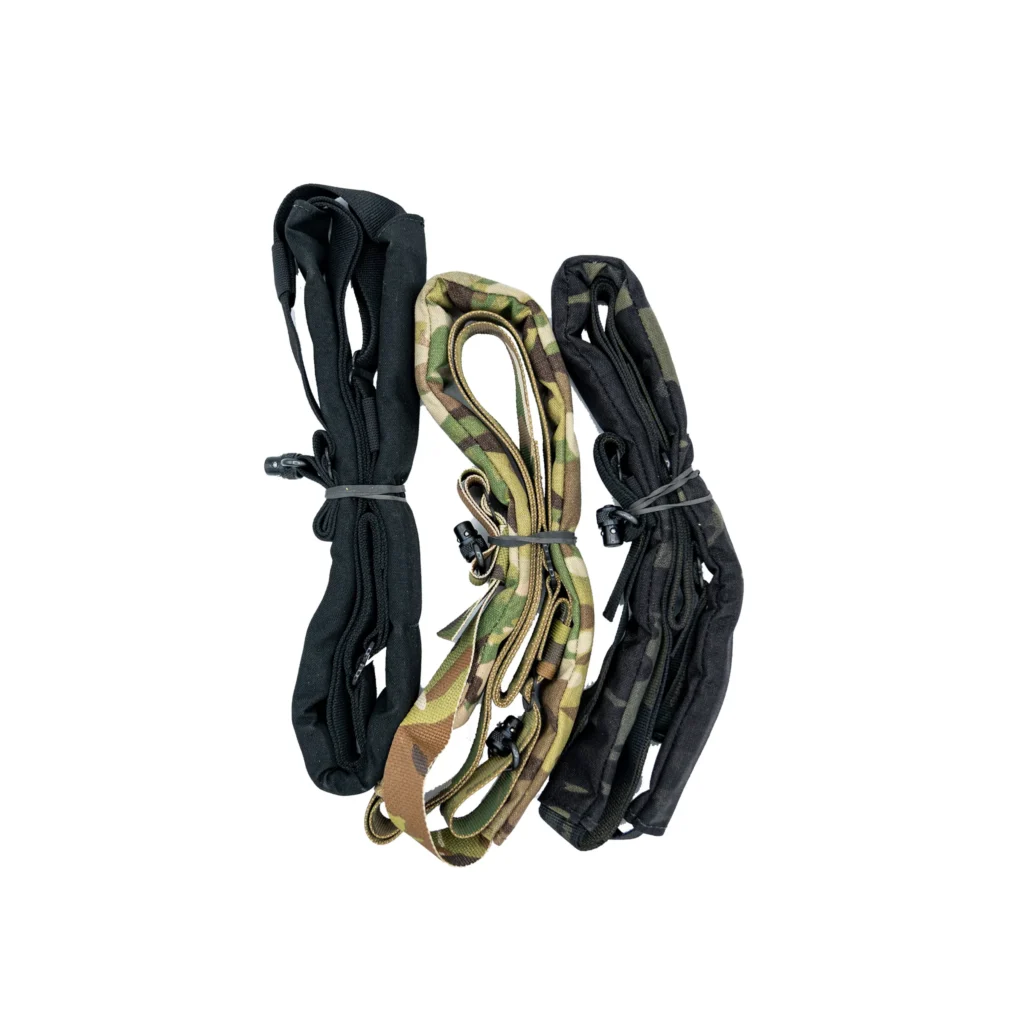 Ryker
Ryker Sling 2.0
We are excited to offer you the RE-Designed world famous RYKER SLING.
+ LESS Bulky  +  Updated materials  + No Plastic / Polymer  + AMERICAN Made steel Clips and Clasps
The retention portion that makes the RYKER SLING unique has been incorporated as well. It comes with standard mil-spec QD mounts and its 2.5oz lighter than the original sling.  NEW COLORS: Black, Black-Multi-Cam and Traditional Multi-Cam.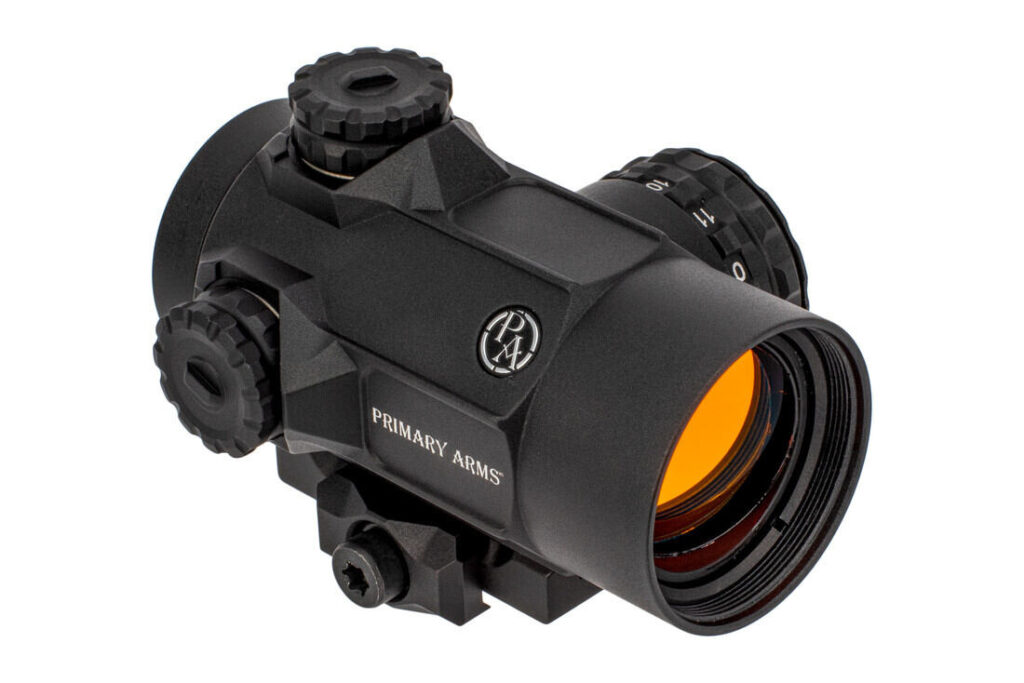 Primary Arms
SLx MD-25 Rotary Knob 25mm Microdot with 2 MOA Red Dot Reticle
This red dot sight is part of the SLx optics line. SLx optics built the reputation for innovation, reliability and value. All SLx optics undergo rigorous field-testing during development to best serve you in any environment.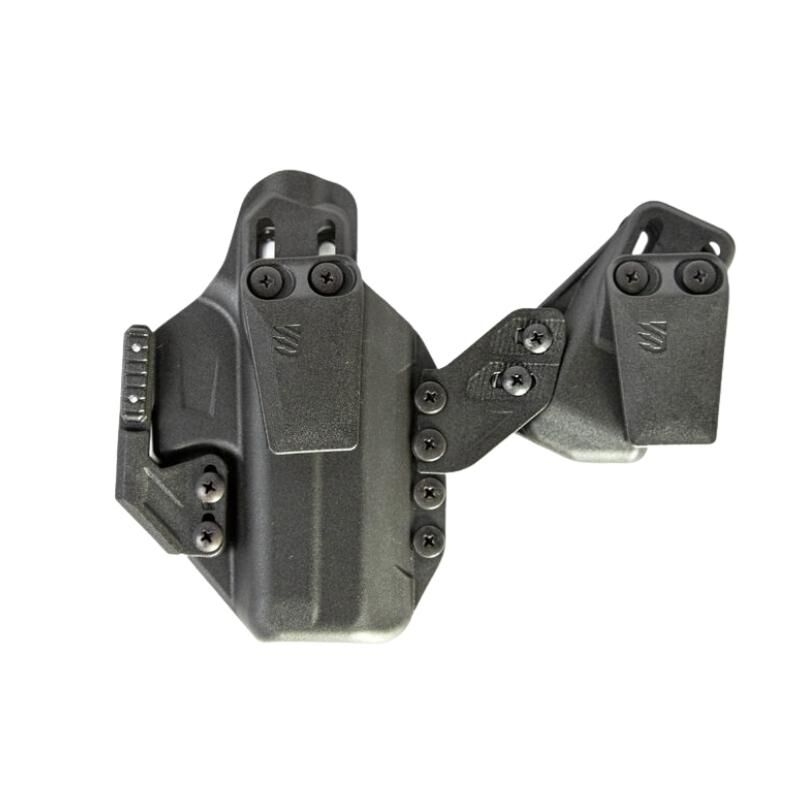 Blackhawk
Stache IWB Premium Holster Kit
Stache ™ IWB is the most technologically advanced, modular Inside-The-Waistband concealed carry holster system designed never to be seen. Base Model includes holster and belt clip. Premium Model also includes magazine carrier and concealment claw.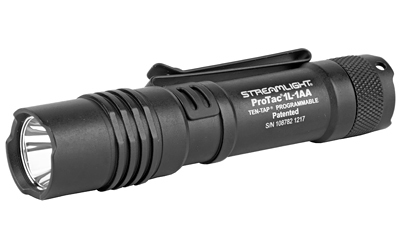 Two Birds Outdoors
Streamlight, ProTac, Flashlight, C4 LED 350 Lumens, Includes One CR123 & One AA Alkaline, Black
The ProTac 1L-1AA is a perfect everyday carry light. This dual fuel ultra-compact flashlight accepts a single lithium or alkaline battery, providing you with ultimate flexibility in the field.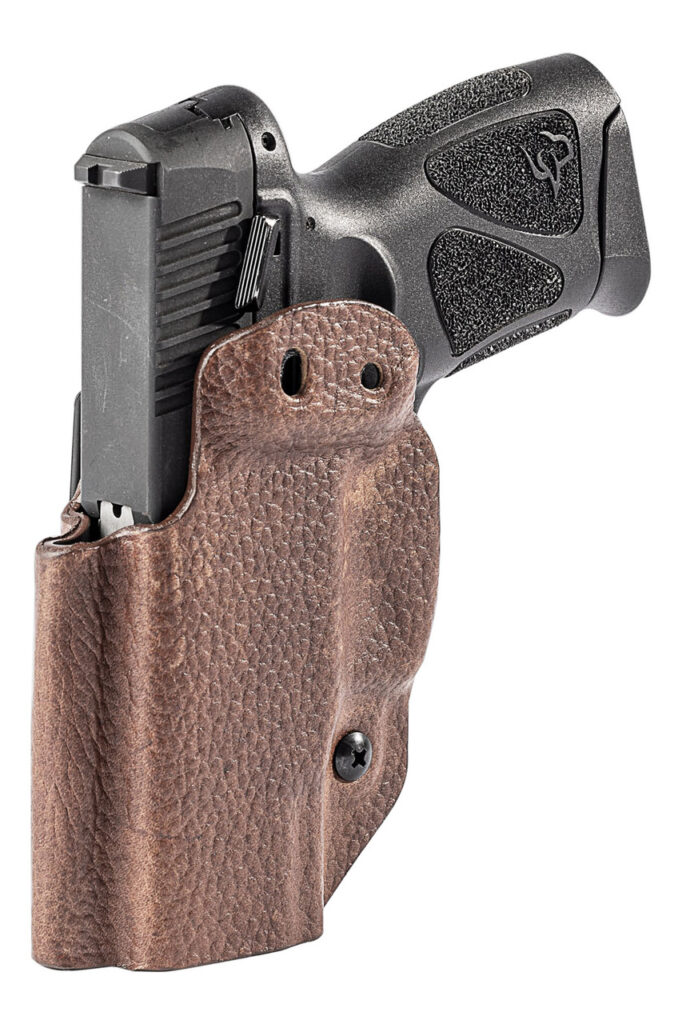 Mission First Tactical
Taurus Hybrid Leather/Boltaron – Appendix – OWB/IWB Holster – Ambidextrous
A versatile AIWB, IWB, or OWB capable of use both in right and left-hand positioning; strong side, outside, inside your waistband or appendix carry. Handmade to exacting tolerances for each model of handgun using the most advanced techniques and materials. Adjustable retention and the famous audible "CLICK" makes each draw and re-holster smooth and secure. All units come standard with a 1.5" Belt Clip.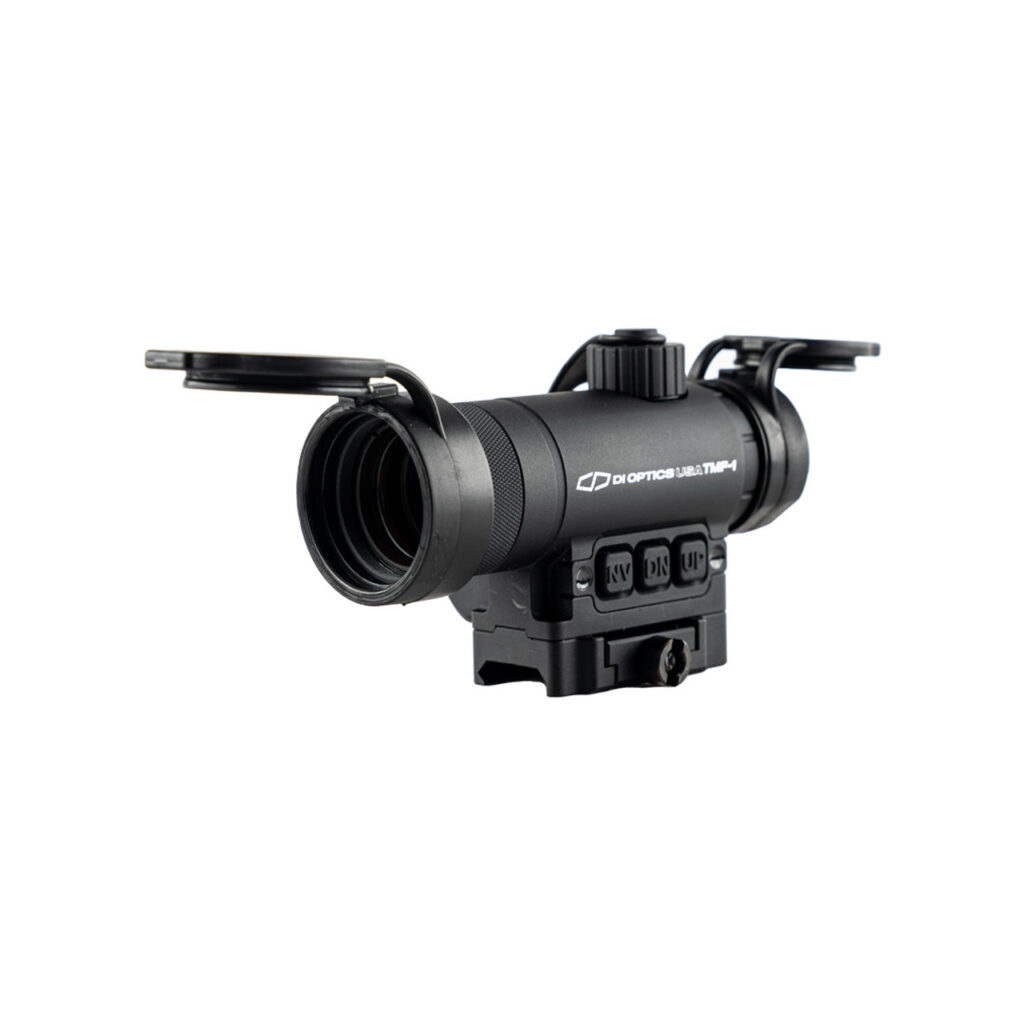 DIOptics USA
TMF-1 Red Dot Sight
TMF-1 is an extreme duty optic that exceeds MIL-STD 810 standards for waterproofing, shock resistance, and exposure to extreme weather conditions. The 30mm objective lens provides exceptional clarity in low light conditions as well as an extra wide field of view. It is offered with a MIL-STD 1913 rail mount. Easy access waterproof buttons allow the operator to adjust the red dot brightness levels and shift from daytime to night vision mode with the press of a button.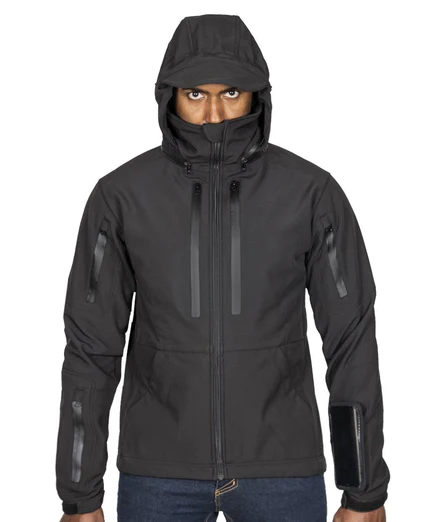 221B Tactical
Tradecraft Tactical Jacket 2.0 – Mens EDC/CCW Ready With Optional Legacy Level IIIA Body Armor
Let's face it. The Police are being defunded. Violent criminals are being released to the streets. And they're making it harder and harder for the good guys to protect themselves. In the crazy world, you're almost obligated to look out for your own safety and protection. Nobody is coming to save you. You need to be prepared to protect yourself and your loved ones at all times. It's better to have this bulletproof men's tactical jacket and not need it than need it and not have.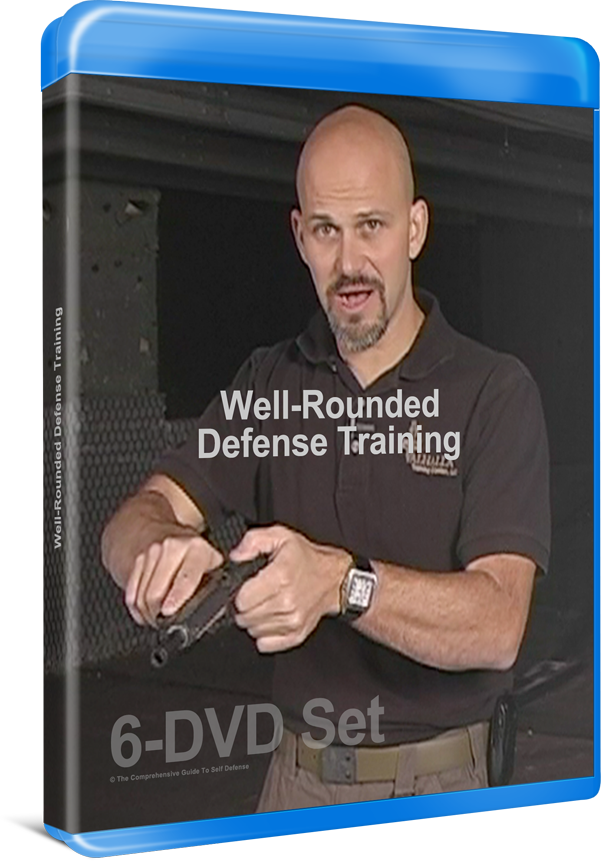 Personal Defense Network
Well-Rounded Defense Training 6-DVD Set
For anyone who takes their personal safety seriously, we've assembled this 6-DVD set as well-rounded resource to help you plan, train, and expand your defensive capabilities – from the basics and beyond.
The Comprehensive Guide To Self Defense DVD provides a broad foundation from which to start, covering important self-defense topics like awareness, defensive tools, skill development, training and practice. The combination of DVDs that follows provides in-depth information and dynamic demonstrations to help you anticipate, plan and train for your own defense in everyday life, at home and on the go.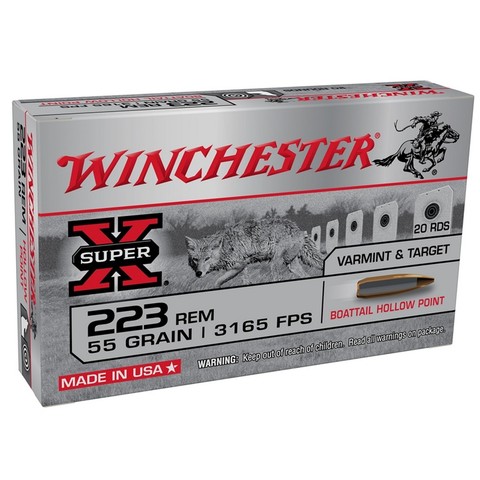 Two Birds Outdoors
Winchester Super-X Varmint 223 Remington Ammo 55 grain BTHP – 500 rounds
Winchester USA ammunition was developed to provide excellent performance at an affordable price for the high volume shooter. Featuring high quality Winchester components, this ammunition delivers outstanding reliability. This ammunition is loaded with a full metal jacket bullet which is known for its postive functioning and exceptional accuracy. On impact this bullet does not expand and is ideal for target shooting. This ammunition is new production, non-corrosive, in reloadable brass cases.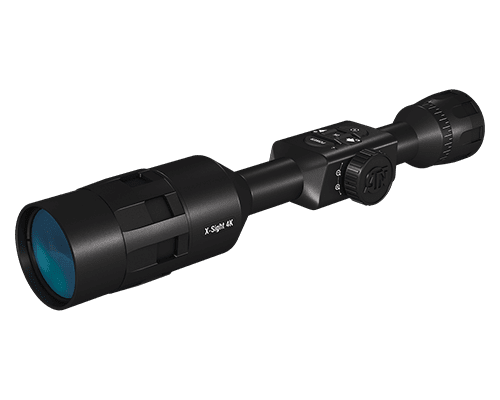 ATN
X-Sight 4K Pro 5-20x Scope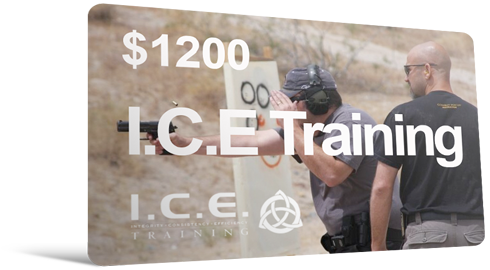 I.C.E. Training
4-Day Training Package up to $1200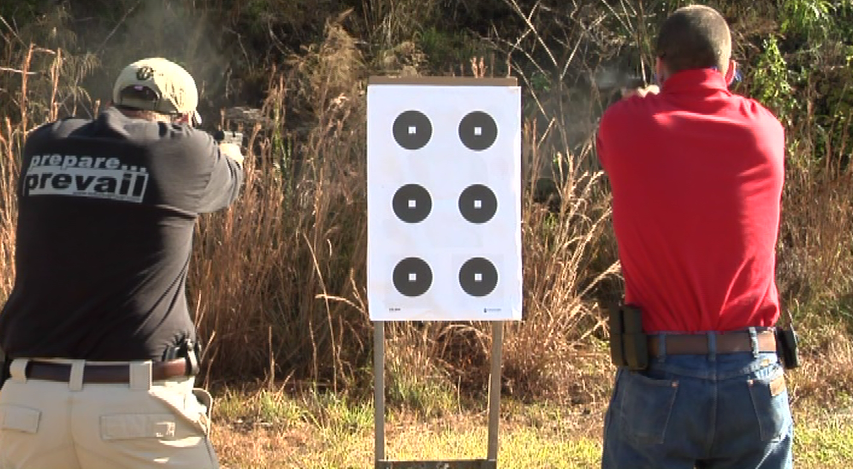 Personal Defense Network
Active Shooter Preparedness 8-DVD Set
In the World we live in, being prepared for the unexpected violent encounter is a must-have mind-set. Knowing how to react could save your life – and the lives of many others. Personal Defense Network has compiled this one-of-a-kind video set, with 8 DVDs covering critical topics related to an active shooter scenario. This is a collection you should own.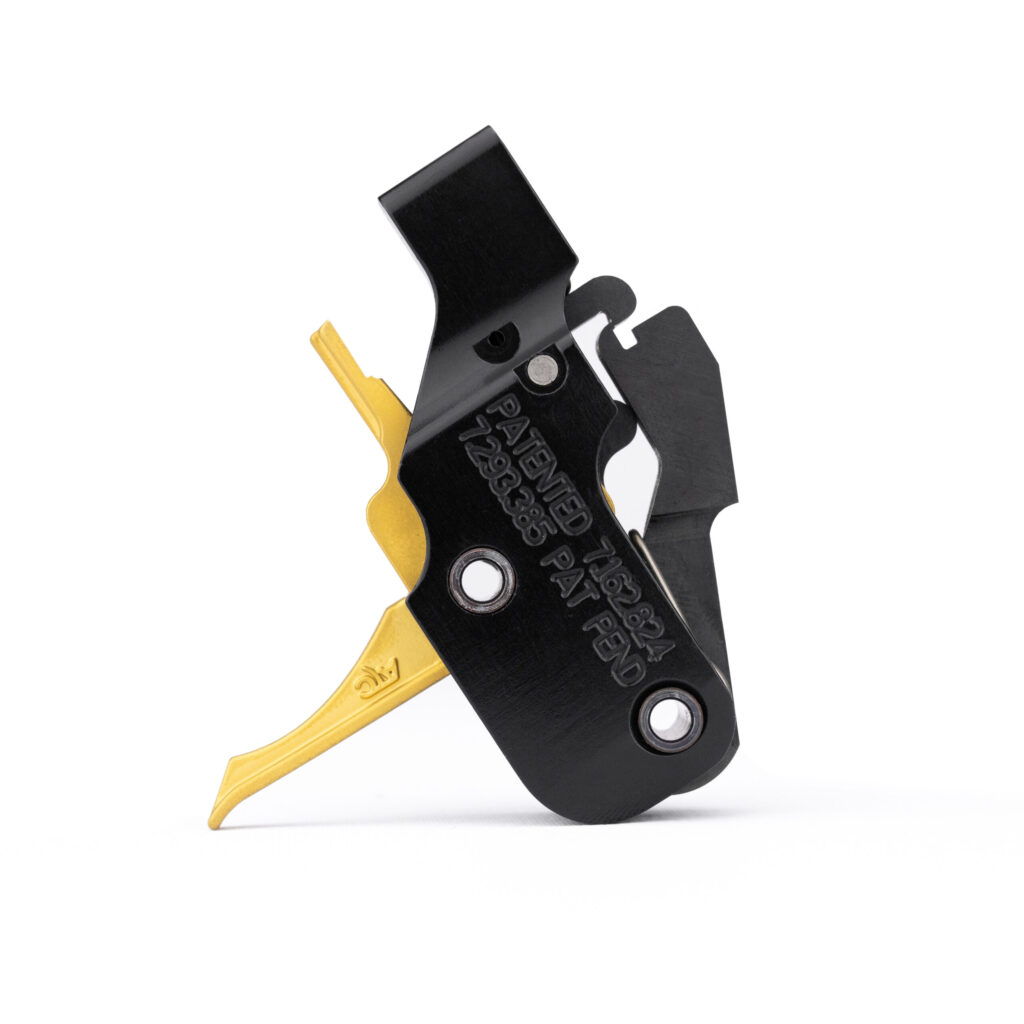 American Trigger
AR Gold Adjustable Trigger (AR-15, AR-10)
The AR Gold has been proven to be the ultimate AR Platform trigger for military, LE, competition, hunting and more. It is the singular best improvement to your AR-15. The AR Gold is a unique approach to the dated trigger functionality of stock AR-15's and other competitors. The AR Gold is a drop-in module trigger, which makes it a breeze to install. It comes stock with a 3.5 lb pull weight. More than just the light weight pull, the trigger has the shortest reset and cleanest break of any other trigger on the market. If that isn't enough it is also Drop-Safe.  Adjustable weight engagement and over-travel. .154 pins.  30 Day Money Back Guarantee on direct sales. Made in USA by American Trigger Corporation.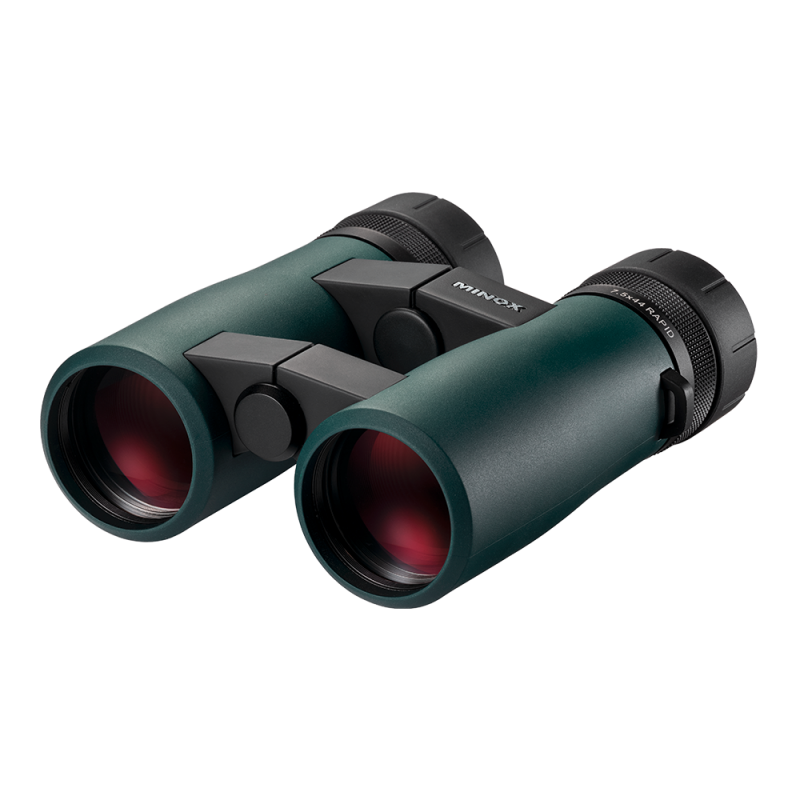 Minox
Binocular Rapid 7.5×44
Originally developed for rugged hunting conditions, the MINOX 7.5×44 RAPID with its single ocular focussing is also suitable for harsh conditions on the high seas or in the mountains. Especially then, when objects are moving fast and need to be quickly identified.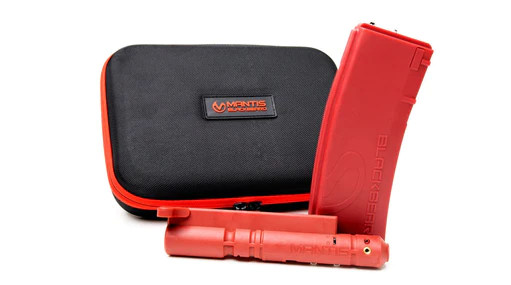 Mantis
BlackbeardX: the auto-resetting trigger system with analytics and smart feedback
The BlackbeardX takes the capability of the Blackbeard into an entirely new dimension. The BlackbeardX contains the MantisX technology that has changed the way shooter improve.  Providing real-time feedback on shooting technique, with smart coaching and actionable analytics, you'll never improve faster than with this powerful combination.
Blackbeard + MantisX = BlackbeardX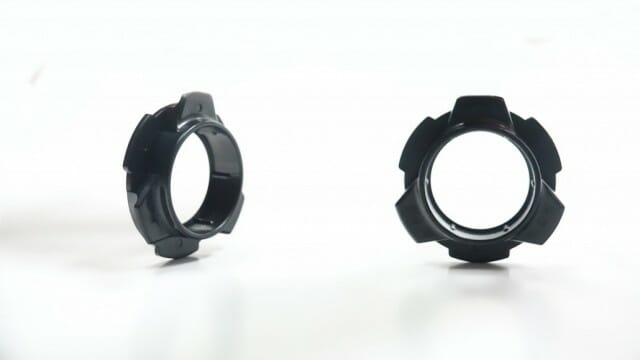 Phone Skope
C3 Optic Adapter : C3-034-I
Phone Skope's C3-034-i optic adapter is one of two required pieces. This adapter is made out of ABS plastic and locks into the Phone Skope phone case and slides over the optic eyecup, creating a secure fit.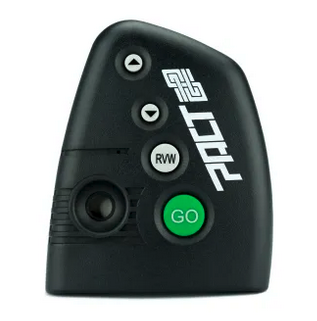 PACT Timer
Club Timer III
The PACT Club Shot Timer III is an excellent shooting timer which is Guaranteed to Improve Your Shooting and help you beat your buddies. The Club Timer III like all PACT products, is purpose built by shooters for shooters, made by us here in the USA and backed by a 30 Day Money Back Guarantee.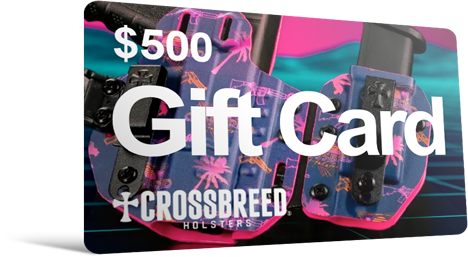 Crossbreed Holsters
Crossbreed Gift Card
Use this gift card to go shopping at Crossbreedholsters.com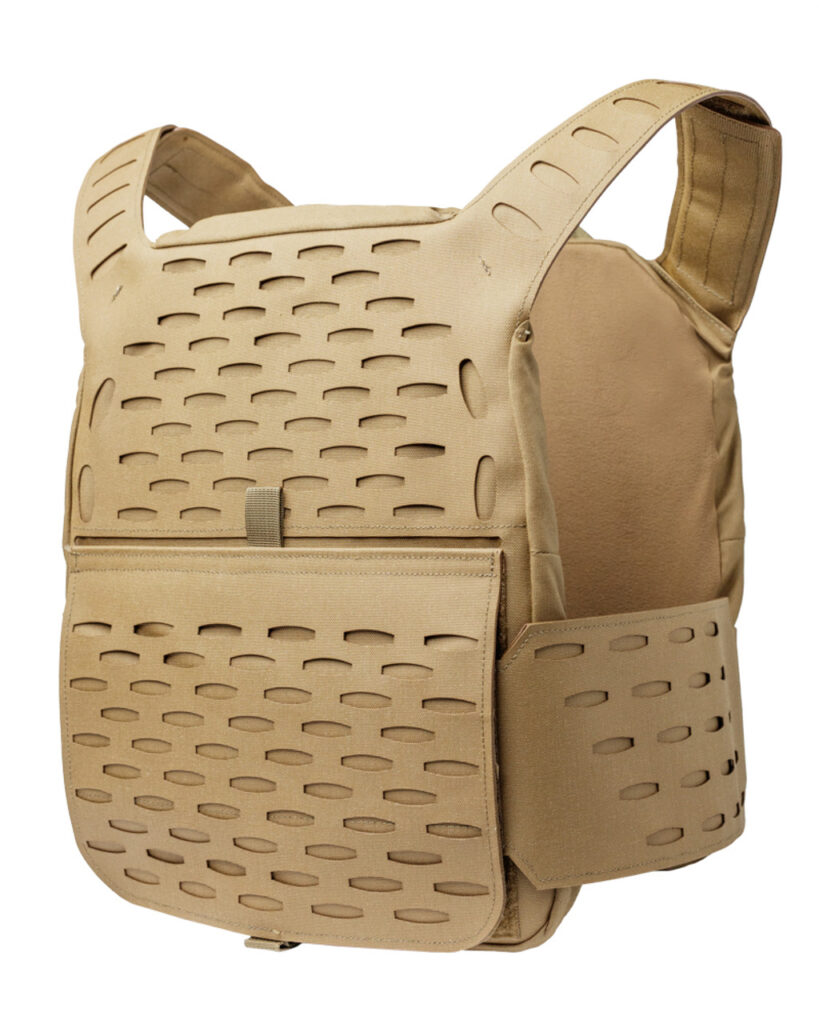 Sentry Products Group
Gunnar Plate Carrier (Shooters Cut)
Manufactured in the USA, the SENTRY Gunnar Plate Carrier offers increased flexibility and mobility in a lightweight, low-profile design.   Constructed of high strength 500D/1000D nylon laminate for durability, the unique design integrates the plate carrier and ergo dynamic shoulder straps as a contiguous part for increased strength and comfort.  SENTRY's 1082 MOLLE / PALS mounting platform on the body, shoulder straps and cummerbund increases configurability while decreasing overall weight.  The standard V1 cummerbund offers internal MOLLE attachments for armor panels and external angled MOLLE mounting for magazines and accessories in a vertical and diagonal orientation.  Adjustable shoulder straps and cummerbund allow for individualized fit.   Shoulder pads and cummerbund included.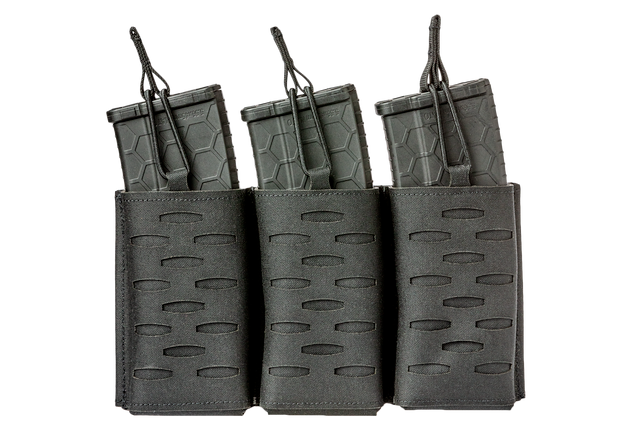 Sentry Products Group
Gunnar Rifle Mag Pouch Triple Pouch
The SENTRY Gunnar Triple Rifle Mag Pouch for your AR/AK magazines is a pouch that easily mounts to any MOLLE/PALS compatible vest, plate carrier or belt for a low profile, lightweight setup to your kit.  These mag pouches have a bungee pull tab that will secure your magazine, and laser cut MOLLE/PALS compatible slits on the front to allow the ability to mount additional pouches to the front of the mag pouch if needed.   The Gunnar series pouches are part of the SENTRY 1082 Micro MOLLE Mounting system made of high strength laminate nylon that is hydrophobic and extremely lightweight.

Sentry Products Group
Gunnar™ 1082 Low Profile Operators Belt V2
The SENTRY Gunnar™ Low-Profile Operators Belt V2 is constructed from 1.75 inch high strength nylon webbing and features the industry trusted quick release Cobra™ Buckle. Internally it has the "loop" portion of the hook and loop to quickly fasten to the Inner Belt. Externally the Low-Profile Operator Belt features a MOLLE style mounting platform made from our high strength laminate and fully sewn onto the belt to safely hold your pouch configuration.  SENTRY's 1082 Micro MOLLE Mount System is backward compatible with MOLLE straps, PALS and A.L.I.C.E. clips for any existing pouches you might have.  You can also tighten up your rig with SENTRY's Tactical Pouches constructed of laser cut straps for use in the Variable Mounting Platform.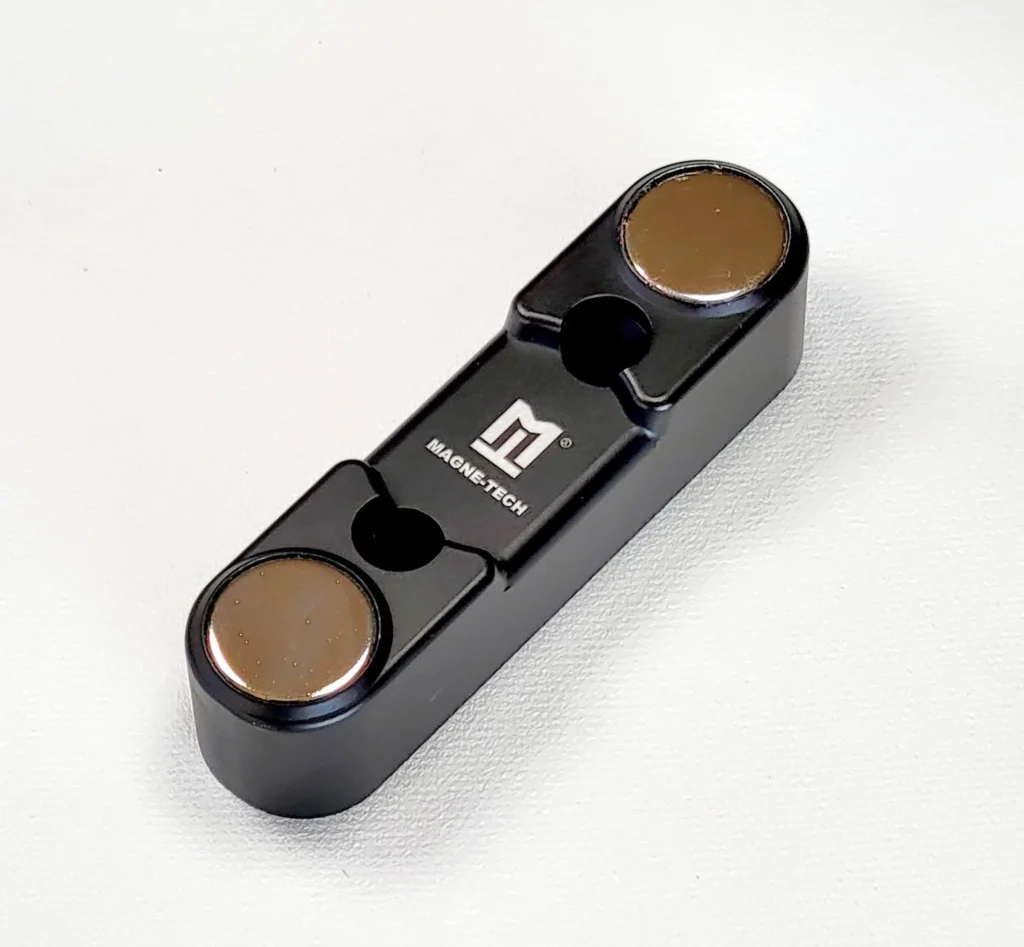 Magne-Tech
Heavy Duty Magnetic Wall Mount
Our heavy duty magnetic wall mount is great for attaching your rifle, ATV helmet, longboard, etc. to the wall. Put that rifle at a safe and convenient height with our magnetic wall mount.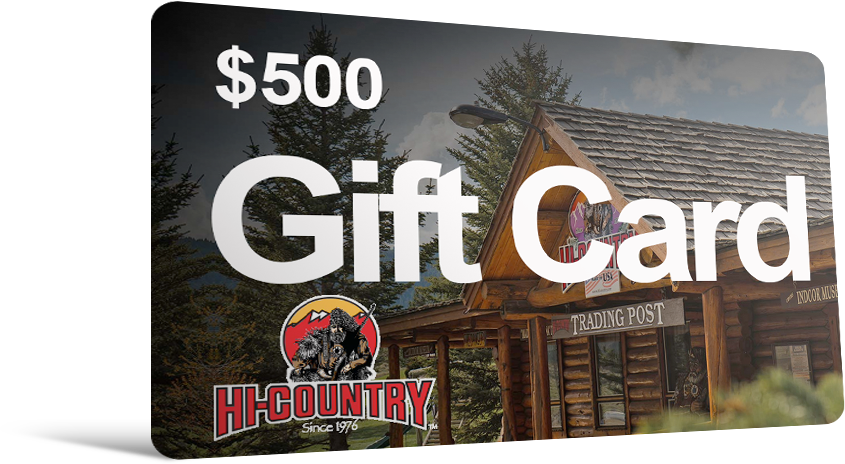 Hi-Country
Hi-Country Gift Card
Use this gift card to go shopping at Hicountry.com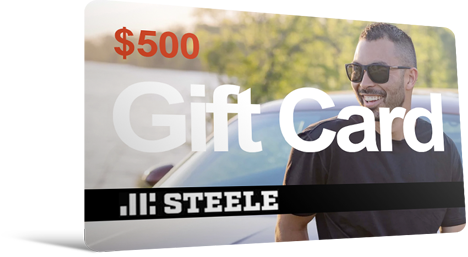 JC Steele Eyeware
JC Steele Gift Card
Use this gift card at jcsteeleeyewear.com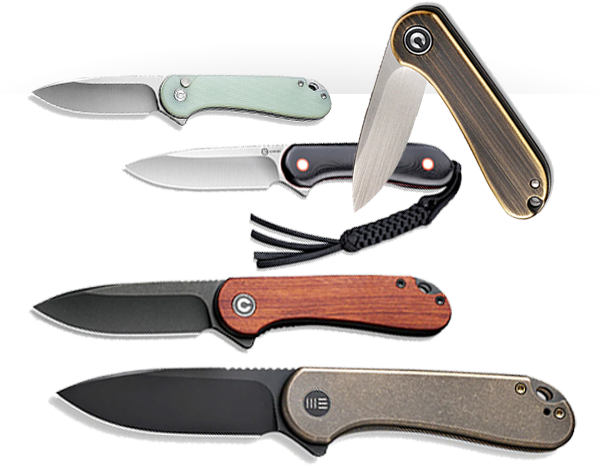 Civivi + WeKnife
Knife Package
CIVIVI Elementum Fixed Blade Knife G10 Handle, Value $99.40
CIVIVI Mini Elementum Flipper Knife Brass Handle, Value $50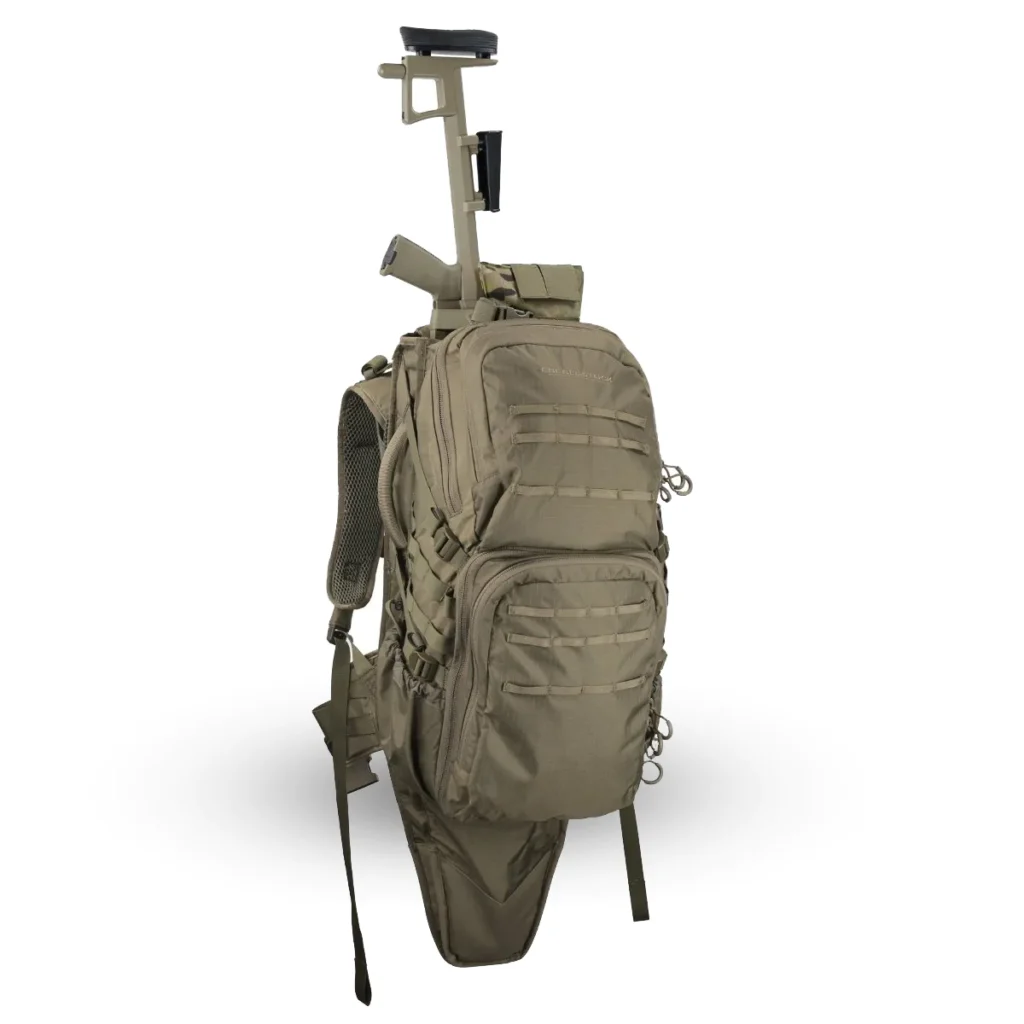 Eberlestock
Lodrag II
Designed to be a highly functional, lightweight tactical pack, as well as incorporate a tactical weapon-sized scabbard, the X31 LoDrag II™ has been a staple in the precision rifle world. Inside the main compartment, the LoDrag II features a fold-away shelf to segregate the top and bottom load space, laptop and document sleeves, and a hydration sleeve for our WX2L and WXP3L hydration systems.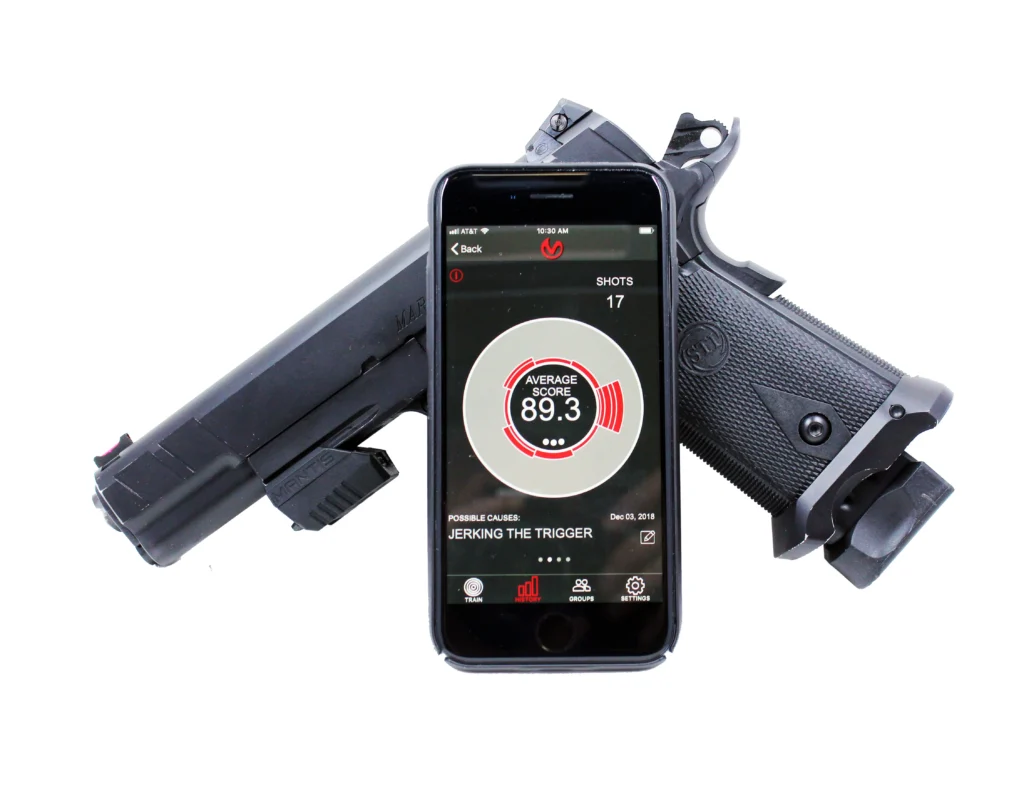 Mantis
Mantis X10 Elite – Shooting Performance System
The Mantis X10 is the next revolution of the breakthrough MantisX. The X10 mounts to standard slotted accessory rails. The X10 is part of the second generation of Mantis Shooting Performance Systems.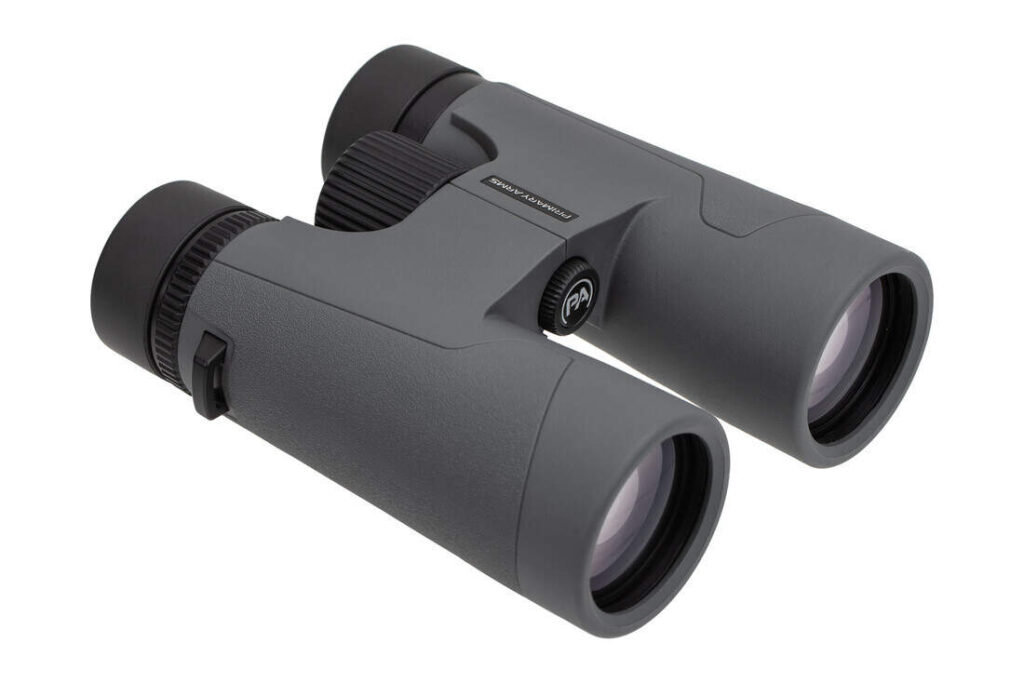 Primary Arms
PA SLX 10×42 Binoculars
These Primary Arms Binoculars are a part of the SLx optics line. SLx optics built the reputation for innovation, reliability and value. All SLx optics undergo rigorous field-testing during development to best serve you in any environment.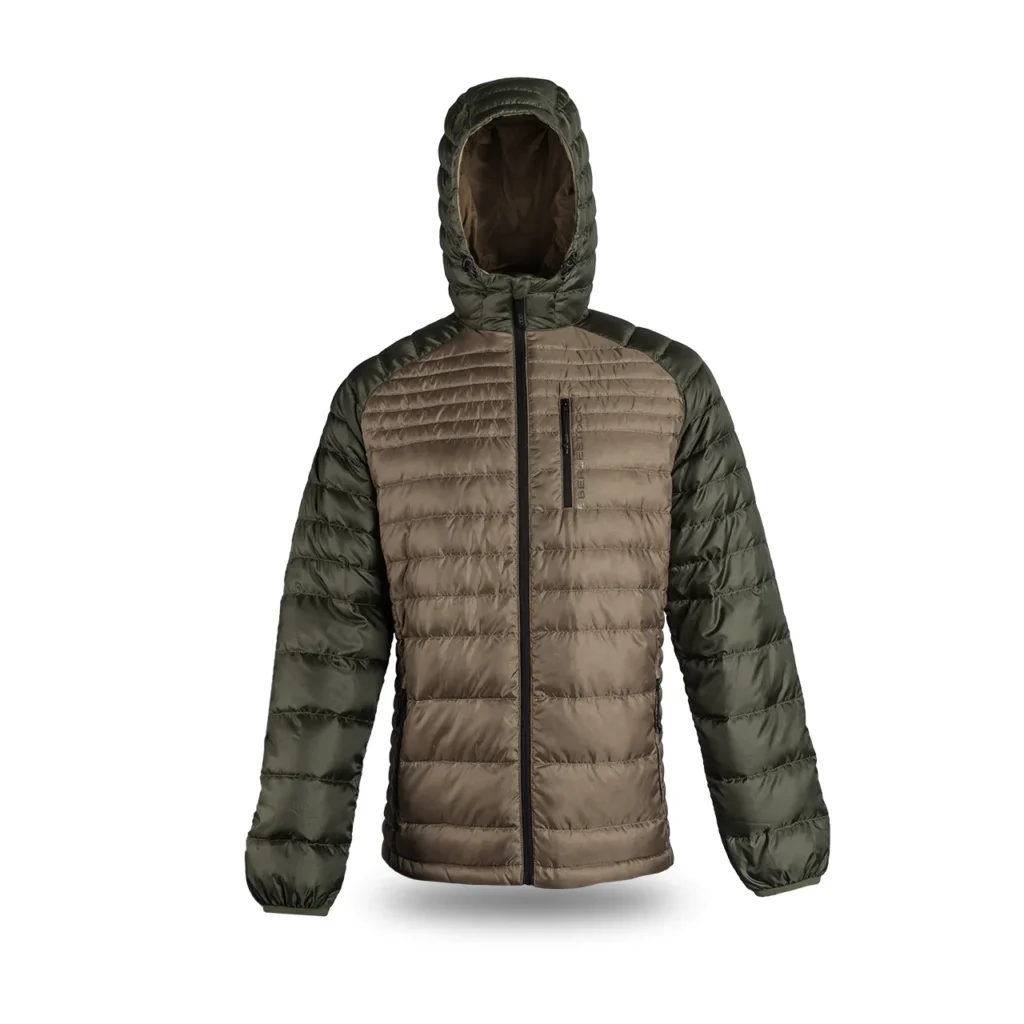 Eberlestock
Payette Down Hoody
Containing 850+ fill, packable, hydrophobic down insulation, the Payette Down Hoody™ touts an impressive warmth-to-weight ratio and can be neatly stowed in its own right hand pocket. Lightweight, DWR-treated, quilted micro ripstop preserves durability without adding weight. An adjustable waist and helmet compatible hood keep out the elements
The winner for the Grand Prize giveaway will be drawn at 9:00am EST on 3/1/23 from entries submitted on 2/6/23 – 2/28/23.