Black Death and a BFR: Chasing African Cape Buffalo with a Handgun
When your eyes lock with those of a Cape buffalo—one of the most dangerous animals on the planet—pulses race and the lines between hunter and hunted blur. The only thing separating us was a few yards of South African sand and a Magnum Research BFR.
Many months of planning, permits, dreams, nightmares, travel, and logistics would tick down to a few final moments of adrenaline. We'd practiced on the range, working that buttery BFR single action—practicing rapid shots from the sticks, moving and shooting, and even sending a few into the target off-hand. Though stout of recoil, the BFR proved both accurate and controllable, leaving zero doubt the gun would hold up its end of the bargain if the huntress did the same.
Permits secured and days of flights behind us, I went armed with my freshly built Magnum Research BFR. For those unfamiliar, those initials are short for Biggest, Finest Revolver (or in some circles, a more—ahem—creative moniker). My chambering of choice from the many offered by Magnum Research?  It was a no-brainer to grab a favored old-school round—the .45-70 Government. Having previously taken a Cape Buffalo with one shot of the same caliber from a Henry Repeating Arms lever action, I was confident in the round's potential … yet at once anxious about making the same well-placed shot under the increased rush of adrenaline with a handgun.
I could also be described with a number of other words as the moment of truth approached—nervous, exhilarated, blessed, focused. With that fine piece of masterfully American-made stainless steel, my personal challenge of going head-to-head against "Black Death" with a handgun became an amazing reality.
Edginess aside, I knew PH Stephen Bann of SB Hunting Safaris had my back no matter the outcome. He mentioned many times prior on our pursuits how dangerous game hunters get into a zone during the hunt. Perhaps it can only be experienced and not explained, but make no mistake—it is certain. Senses are heightened, every hair on end. The rest of the world ceases to exist. There is only you, the quarry equally ready to kill you, and a small hunting party. Stephen, Jerry, Fish, and I—PH, hunters, and tracker—were ready. We'd spent many evenings around the "African television"—the campfire, that is—planning for this very instant.
For several days, we had been tracking a particular bachelor group of bulls. Having glassed at length, we knew there were a couple old warriors, defined by their hard-bossed headgear, where the solid horns have grown tightly together, gnarled from years of sparring for dominance. Working into range of one of these grandest trophies without alerting the rest of the boys' club proved to be a challenge indeed. We trailed, spotted, stalked, and eventually, got ahead of the herd. Hiding ourselves in a makeshift blind would be the final answer.
A number of other bulls moved around unsuspecting, their grunts and heavy breaths surrounding us. After days and hours of wishing, everything happened in split seconds.  A scarred dagga-boy stepped clear of the brush, moving to my right and quartering slightly away, well inside of 20 yards. My heartbeat rattled my body … certainly he could hear the pounding? I was ready on the sticks and slowly inched the hammer back. The detail of his coarse ashen hair was visible in the Leupold scope. Instinct took over.  The round broke perfectly, driving hard into his wheelhouse.
All hell broke loose as he kicked, threw up dust, and charged unsteadily into a thorny thicket not 50 yards away. Stephen was moving first and motioning me to follow him. We moved quickly into the direction where pure aggression waited, having left a ragged trail of bloody dirt. We struggled to make out the Buff's outline, but once we did, we could see his eyes were locked. He was poised to come for us. Stephen was ready now with the rifle. If the charge came, he would fire.
That "you owe him money" stare was dead on, just as Robert Ruark described. Stephen whispered for me to step into an opening in the brush and fire once more. The shot would be offhand, head-on. The buff was in the thickest brush, head raised. I hesitated a second and inhaled deeply, enough to draw a fevered glance from Stephen. Before he could motion, I knew this was it.  Slipping into the opening, I raised the five-shooter, now holding four unfired rounds of heavy lead. With Black Death immediately in the crosshair, I fired.
The entire hunt was over in a matter of minutes that seemed a lifetime. To say emotions ran high would be an understatement.  The hard-bossed old warrior Syncerus caffer caffer and I were forever linked, and by handgun, no less. There, in the sun-setting southern African sand, that Magnum Research BFR became a part of my life's story. As is common in a survival-based land like Africa, every piece of that animal would be utilized and treasured; each second of the adventure locked into the deepest recesses of memory.
Whether you're planning to go tête-à-tête with dangerous game like the venerable Cape buffalo or chasing whitetails in the local woodlot, every hunt is important … and Magnum Research builds a BFR that's more than up to the task. These wheelguns are built to be passed from one generation to another, just as mine will be. Imagine the stories these lovely handguns will be able to tell to any, like you, who will listen.
Kristin Alberts is an outdoor writer and videographer. Her work appears in many print and online publications, including Guns.com, Gun Digest Annual, Game & Fish. She also works as an outdoor adventure booking agent, so if an African Safari is on your bucket list–especially with a BFR–she'll help you live it. Follow her online at kristinalberts.com or via social media as The Wilderness Woman.
~~~~~~~~~~~~~~~~~~~~~~~~~~~~~~~~~~~~~~~~~~~~~~~~~~~~~~~~~~~~~~~~~~~~~~~~~~~~~~~~~~~~~~~~~~~~~~~~~~~~`
Would you like to speak plainly to Cape buffalo? You can win a BFR of your own with our …
Do you dream of dawn in the darkened blind?
Do you dream of the soft thump of a buck's hooves, or the clatter of wild wings? Whatever your game, whatever your dream, you can make it happen this fall with our Hunter's Dream III $9K Guns & Gear Giveaway! Starting with the crème de la crème of long-range accuracy, the Nosler Model 21 in 6.5 Creedmoor, this giveaway stars a Magnum Research BFR hunting handgun chambered in .45/70, and an LKCI revolving shotgun courtesy of Gunprime. Dress your shooting iron in glass from Primary Arms and feed it Freedom Seeds courtesy of Two Birds Outdoors, gear up with a $750 gift package from 1791 Gunleather, grab whatever apparel or accessories you've been craving from Hi-Country Trading Post, drop a bag of premier attractant from Big & J (don't be stingy; you'll have 49 more), and get ready to watch your hunter's dream come true! This giveaway runs through midnight Central time October 15, 2022 … get your name in the hat today!
WHAT YOU COULD WIN…
Nosler
Nosler Model 21 Rifle in 6.5 Creedmoor
The all-new Nosler Model 21™ is a new rifle for the next decade. Filled with cutting edge features including a wire EDM machined receiver, nitride coated, fluted bolt, TriggerTech trigger, Shilen match grade stainless steel barrel, and a McMillan® carbon fiber stock, the Model 21 is sure to appeal to hunters and shooters all over the country. The Model 21 is built by riflemen, for riflemen and provides exceptional reliability and packable precision to any hunt—wherever that may be.
Magnum Research
BFR, .45/70, Stainless Steel 10″ barrel, Standard Grip
MRI's Big Frame Revolver is truly the biggest, finest revolver on the market today. Entirely manufactured in the US and like the legendary Desert Eagle pistol it is designed as a magnum from the ground up. The BFR is all stainless and has a cut rifled barrel that delivers unmatched accuracy with lead or jacketed bullets. The BFR is the most powerful production single action gun made and with 12 calibers and two frame sizes to choose from you can take everything from grouse to grizzly.
Gunprime
LKCI REV 410 Revolver Shotgun 24″ Rossi Circuit Judge Clone
Action: Revolver Shotgun – SA / DA – System: External Hammer – Gauge: .410 Ga. – Chamber: 3 inches – Stock: Turkish Walnut– Oil Finished Matte – Receiver: Steel – Barrel: Smooth Bore / No Rifling. Inner surface is hard white chrome plated outer surface is black chrome plated – Sight: V-Sight – Length: 24 inches – Length: 41.7 inches – Weight: 5.5 lbs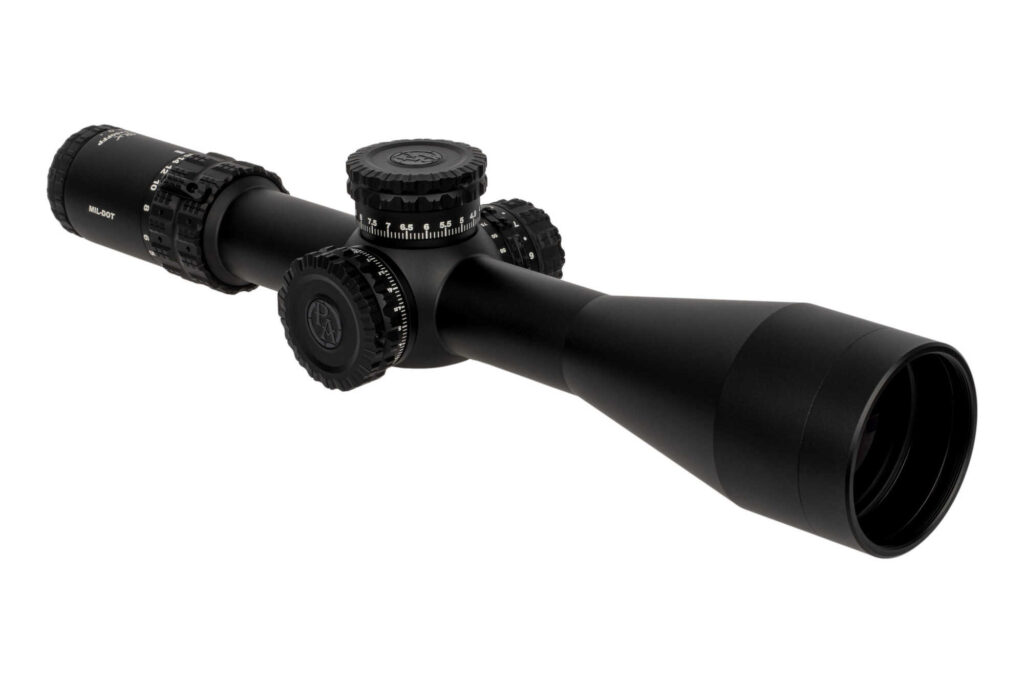 Primary Arms
Primary Arms GLx 4-16x50FFP Rifle Scope – Illuminated Mil-Dot
This rifle scope is part of our mid-tier optics line called GLx. GLx brings premium technology and materials into an approachable price range. The GLx 4-16x50mm rifle scope has a 4x magnification range, offering a massive field of view excellent for scanning and tracking movement, but improved medium-to-long range precision as well.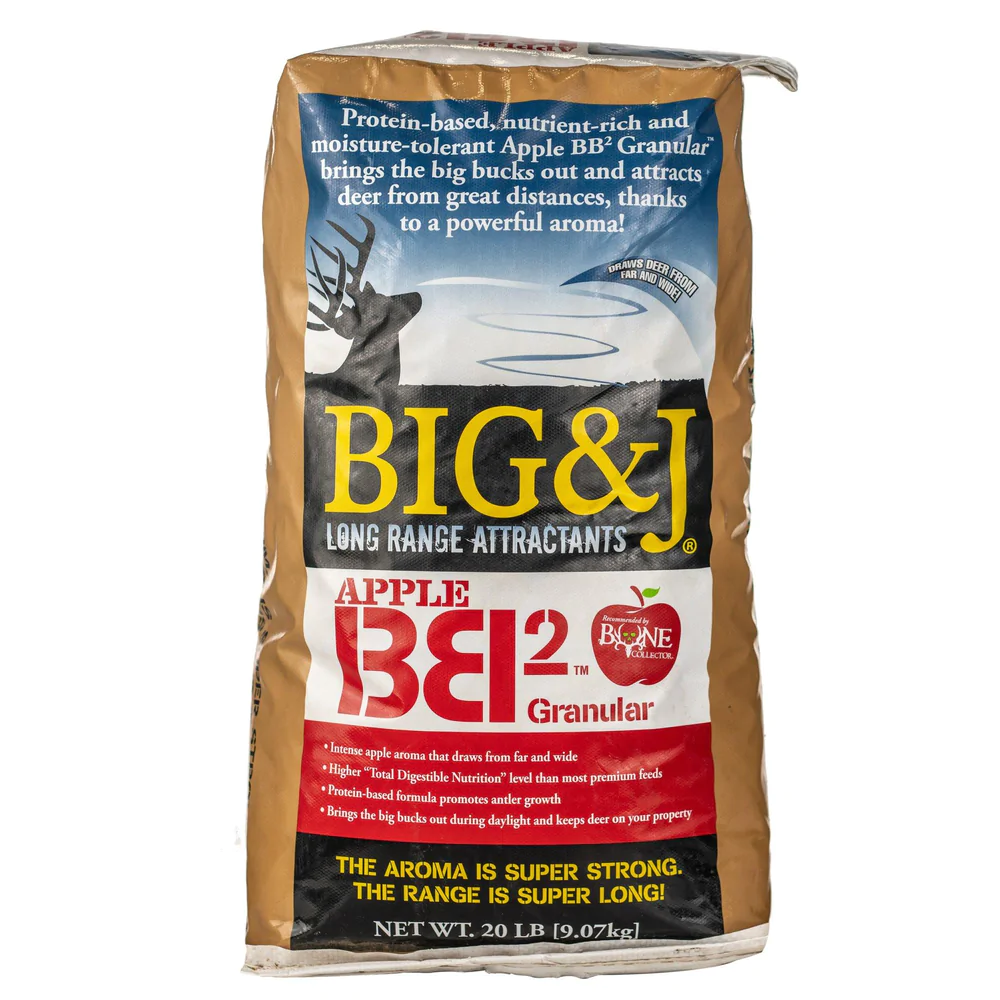 Big & J
Big & J Apple BB2
1,000 lbs (50 bags) of BB2 Apple in 20lb bags. If you want to shoot a big buck, you need to get it onto your property. In this era of food plots and property management, deer will choose to go to the setup that's best. Apple BB2 is your secret weapon. Its powerful aroma, the result of a proprietary refining process, draws deer from farther away. But Apple BB2 is not just an attractant. In fact, it has a TDN (total digestible nutrition) level that is higher than virtually all premium feeds. And a high level of protein. This brings the big bucks out and keeps deer coming back all season long.
Hi-Country
$500 Gift Card
Use this gift card to go shopping at Hicountry.com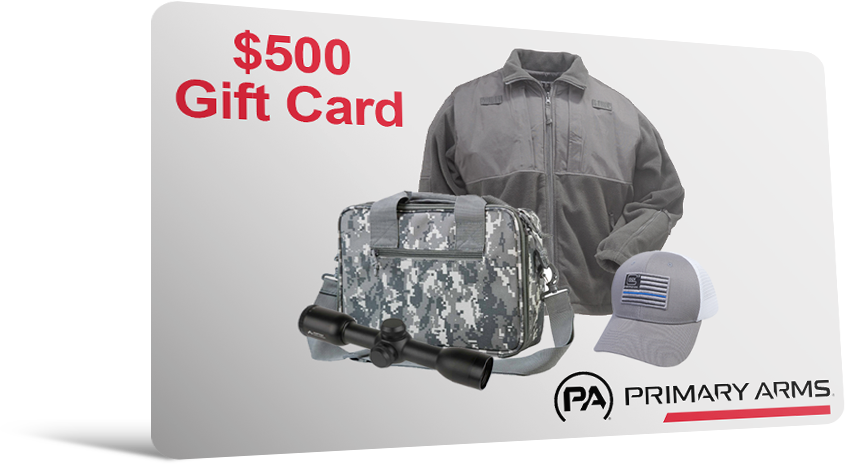 Primary Arms
$500 Gift Card
Primary Arms has what you need to keep your guns running. Ammunition, reloading equipment and accessories from well known brands coupled with fast shipping and world class customer service make you a big winner. Gift card valid only on Primaryarms.com
1791 Gunleather
$750 Gear Package
Get $500 in Branded Gear and $250 Gift Card to be used on 1791gunleather.com  Gear includes: 1791 Gunleather T-Shirts (2)  // 1791 Gunleather Hat // 1791 Gunleather LED Sign // 1791 Gunleather EDC Tray // 1791 Gunleather Gun Mat // 1791 Gunleather Custom Notebook Cover // 1791 Gunleather Whisky Set // 1791 Gunleather $250 Gift Card
Two Birds Outdoors
J&G 410 Shotshell 2.5″ 1/2 oz #8 Shot 500 Rd Case
The smallest of the collection. 10 grams of pellet and a 65 mm case for traditional shotguns; perfect for beginners.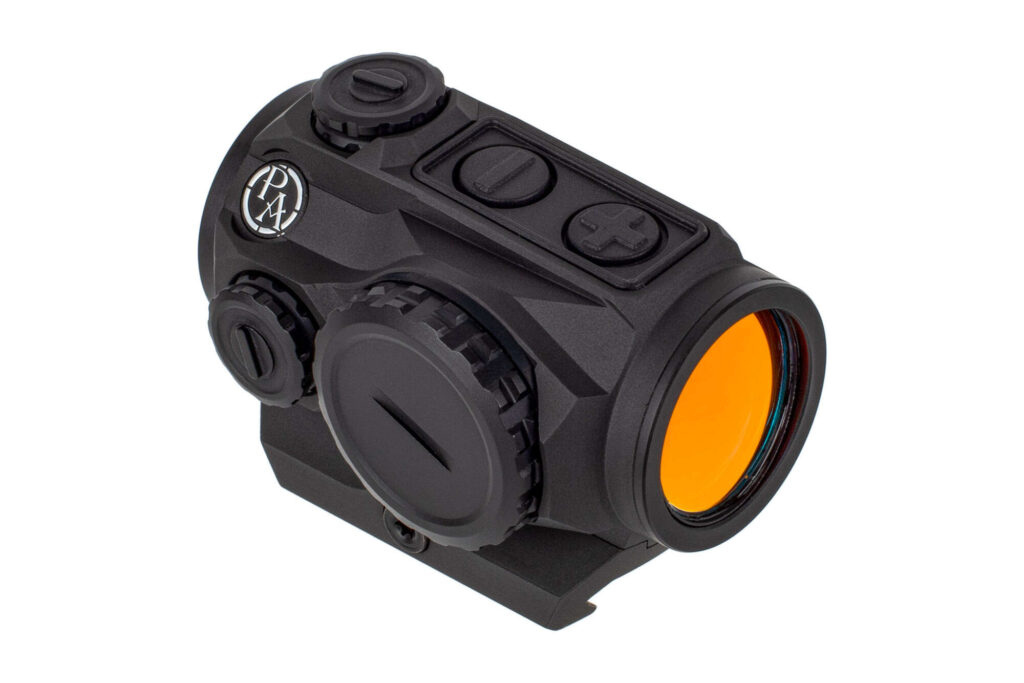 Primary Arms
Primary Arms SLx Advanced Push Button Micro Red Dot Sight – Gen II
This red dot sight is part of our SLx optics line. SLx optics built our reputation for innovation, reliability, and value. All SLx optics undergo rigorous field-testing during development to best serve you in any environment.
XDMan
Varmint Light 250 lumen, Green LED (no case)
Bright predator light for your favorite varmint rifle.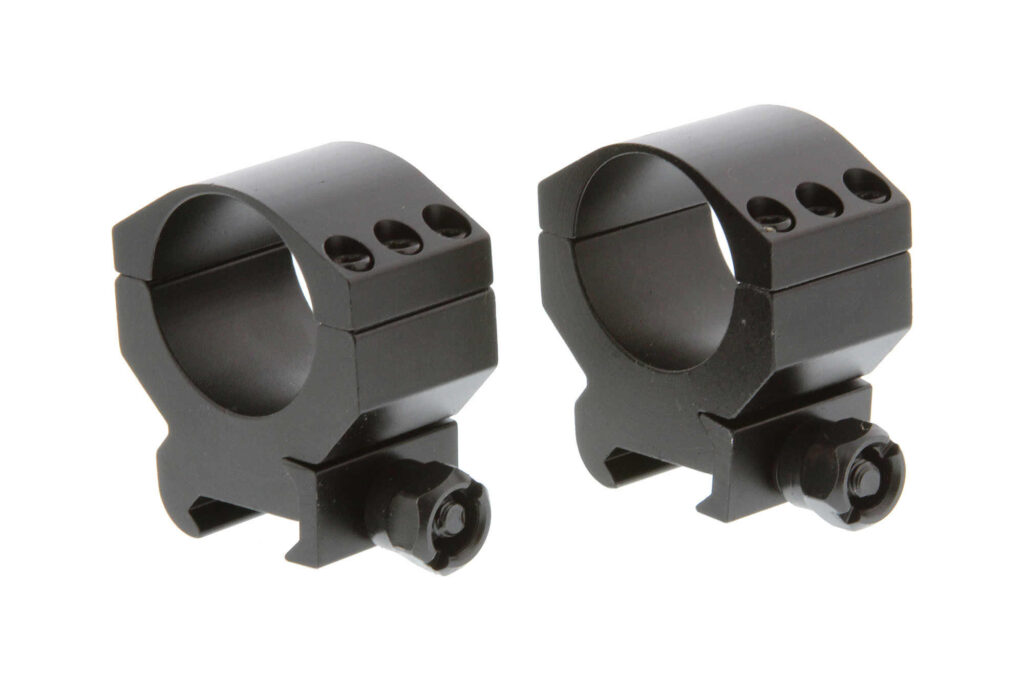 Primary Arms
Primary Arms 30mm Tactical Rings – Medium Height (Pair)
Primary Arms Medium 30mm Tactical Rings place the center of your 30mm tube scope 1.09 inches above your 1913 Picatinny rail or Weaver rail platform. Two rings are included, each held together by six Torx head screws. Constructed of high quality aluminum with a matte black anodized finish, these rings feature a lifetime warranty.