1791 Gunleather: How to Choose the Best Gun Belt
Today, we have an informative how-to from our partners at 1791 Gunleather, a proud sponsor of our Hunter's Dream III $9K Guns & Gear Giveaway! Don't forget to sign up here for your chance to win a $750 1791 Gunleather Gear Package, including $500 of branded gear and a $250 gift card to purchase whatever you like at 1791Gunleather.com. This giveaway ends October 15, so don't miss out …
__________________________________________________
How to Choose the Perfect Gun Belt 
-Andy H.
Not wearing a gun bealt is risky. From dropping your handgun to shooting yourself due to improper trigger safety, ignoring a belt isn't a great look – and certainly irresponsible for a gun owner.
You know that a gun belt is important for carrying your handgun, but what goes into it?
There are many different styles and materials to choose from.
This article will help you determine which suits both function AND fashion needs.
Here's how to choose a gun belt!
Some of the considerations for choosing the right gun belt include:
Holster size
Holster and gun weight
Waist size
Environment
Comparing options also requires a closer look at materials, thickness, and price.
A gun belt is an essential accessory for handgun owners.
Whether you carry it inside the waistband, outside the waistband, or small of the back, a gun belt helps keep your holster in place.
Gun Belt Material: What Should Your Belt Be Made With?
Manufacturers typically make gun belts from leather or nylon.
Nylon gun belts are sometimes cheaper than leather belts – but nylon is more prone to snags, general wear and tear, stretching, and general discomfort compared to leather.
A high-quality leather belt can last a lifetime, gradually come to form around the shape of your holster and your body, and become way more comfortable than nylon.
A leather belt is likely to provide greater support and a more discreet option compared to nylon.
Choosing a Gun Belt Based on Your Environment
Your environment plays a role when choosing a gun belt, as some materials do not work as well in certain settings.
For example, nylon belts may become saturated when exposed to rain, moisture, sunlight, or other elements.
If you choose leather for a humid environment, make sure you go with full-grain leather.
Full-grain leather is a naturally moisture-resistant material and will not dry and crack.
Gun Belt Thickness
The thickness of your belt determines its level of support.
A thinner belt allows your holster to sag and becomes stretched, while a thicker belt keeps both in place (which is the main purpose of a gun belt, after all!)
Gun Belt Width
Most holsters are made to fit belts measuring about 1.5 inches wide.
Some belts come in 1.25-inch or 1.75-inch sizes.
A thinner belt may work better with slacks but lacks the reinforcement of a 1.5-inch belt.
A 1.75-inch belt is less likely to fit the loops of most pairs of pants.
Gun Belt Price
You can get a lower-quality nylon belt for about $10 to $20.
Some leather gun belt companies will charge upwards of $200 bucks for their leather belts – which aren't even made from full-grain leather.
Our leather gun belts go for around $60 bucks – but come with a lifetime warranty.
Gun Belt Length
The optimal length of the gun belt is determined by looking at your waist size plus how you carry.
You typically want to wear a belt that measures four inches longer than your normal pant size.
For example, if you normally wear size 38-inch pants, you may want a 42-inch belt.
1791 Gunleather Gun Belt
The 1791 Gunleather Gun Belt offers the right combination of the features discussed above. You get a durable belt at a reasonable price. Some of the main features of the belt include:
Strong full-grain leather
Reinforced stitching
Measures 1.5 inches wide
Steel buckle with a standard hole
Available in multiple sizes and colors
Backed by a lifetime warranty
100% satisfaction guarantee
1791 Gunleather makes belts only from full-grain, premium leather from the top layer of the hide. The leather is not treated, which helps preserve its strength. The leather will never snag, break, or stretch. It is also resistant to moisture.
Customers also love the durability of the gun belt. It includes reinforced stitching and a steel buckle to hold up to daily use. If you are not completely satisfied, you can return the belt for a refund.
Final Thoughts
A gun belt is not something that first-time gun owners may think to purchase but remains necessary for concealed carry or open carry. Compared to regular belts, gun belts are often stiffer and thicker, which helps keep your holster in place.
Thick, leather gun belts, such as the 1791 Gunleather gun belt, prevent your firearm from shifting as you move. These belts can also make it easier to keep your firearm concealed, as you know that it will not move from its position.
No matter the type of gun belt you ultimately choose, remember to select the right length. You will experience extra discomfort if the belt is too tight. If it's too long, you can add a notch as needed.
______________________________________________________
Don't forget, you can win some terrific gear from 1791 Gunleather with our …
WHAT YOU COULD WIN…
Nosler
Nosler Model 21 Rifle in 6.5 Creedmoor
The all-new Nosler Model 21™ is a new rifle for the next decade. Filled with cutting edge features including a wire EDM machined receiver, nitride coated, fluted bolt, TriggerTech trigger, Shilen match grade stainless steel barrel, and a McMillan® carbon fiber stock, the Model 21 is sure to appeal to hunters and shooters all over the country. The Model 21 is built by riflemen, for riflemen and provides exceptional reliability and packable precision to any hunt—wherever that may be.
Magnum Research
BFR, .45/70, Stainless Steel 10″ barrel, Standard Grip
MRI's Big Frame Revolver is truly the biggest, finest revolver on the market today. Entirely manufactured in the US and like the legendary Desert Eagle pistol it is designed as a magnum from the ground up. The BFR is all stainless and has a cut rifled barrel that delivers unmatched accuracy with lead or jacketed bullets. The BFR is the most powerful production single action gun made and with 12 calibers and two frame sizes to choose from you can take everything from grouse to grizzly.
Gunprime
LKCI REV 410 Revolver Shotgun 24″ Rossi Circuit Judge Clone
Action: Revolver Shotgun – SA / DA – System: External Hammer – Gauge: .410 Ga. – Chamber: 3 inches – Stock: Turkish Walnut– Oil Finished Matte – Receiver: Steel – Barrel: Smooth Bore / No Rifling. Inner surface is hard white chrome plated outer surface is black chrome plated – Sight: V-Sight – Length: 24 inches – Length: 41.7 inches – Weight: 5.5 lbs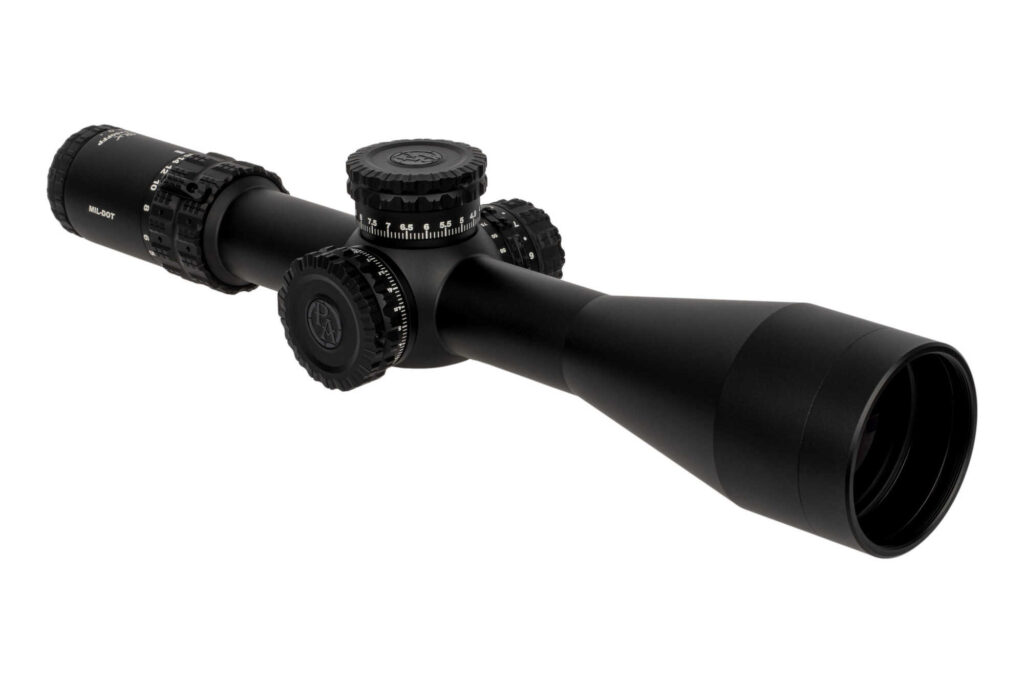 Primary Arms
Primary Arms GLx 4-16x50FFP Rifle Scope – Illuminated Mil-Dot
This rifle scope is part of our mid-tier optics line called GLx. GLx brings premium technology and materials into an approachable price range. The GLx 4-16x50mm rifle scope has a 4x magnification range, offering a massive field of view excellent for scanning and tracking movement, but improved medium-to-long range precision as well.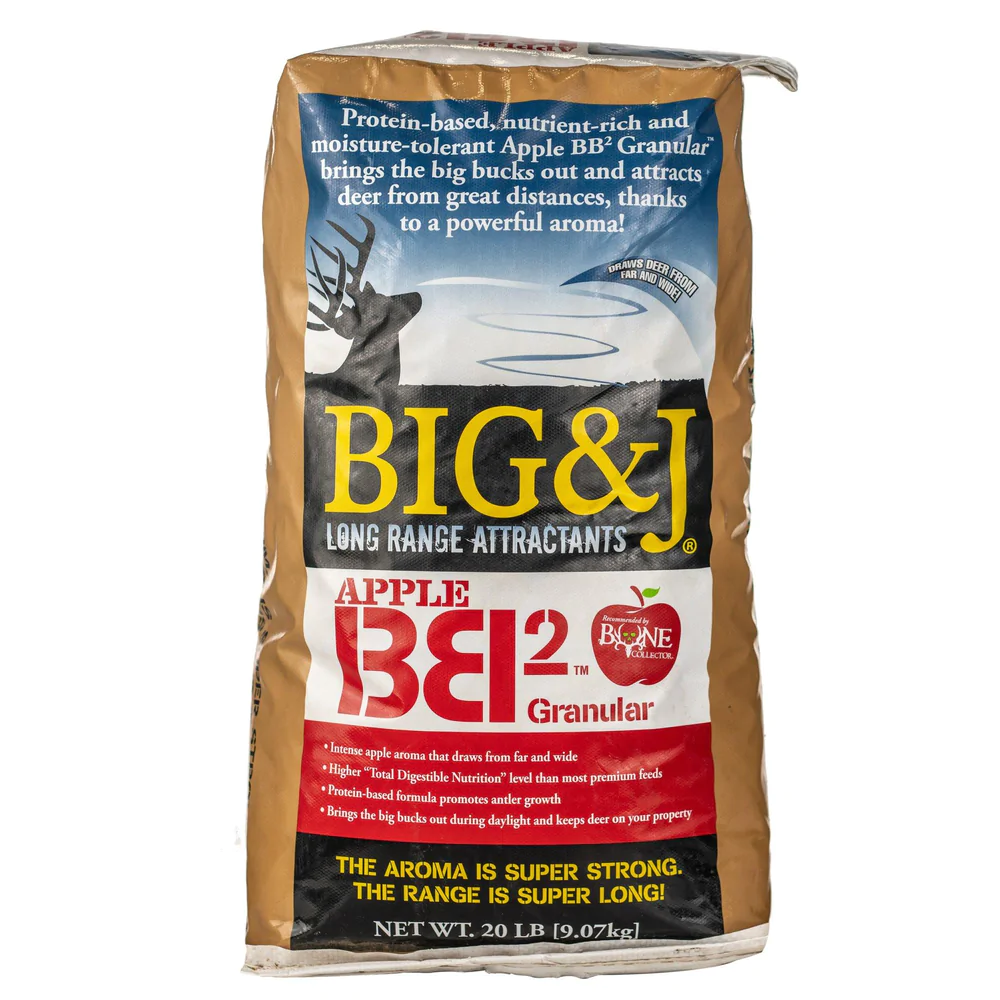 Big & J
Big & J Apple BB2
1,000 lbs (50 bags) of BB2 Apple in 20lb bags. If you want to shoot a big buck, you need to get it onto your property. In this era of food plots and property management, deer will choose to go to the setup that's best. Apple BB2 is your secret weapon. Its powerful aroma, the result of a proprietary refining process, draws deer from farther away. But Apple BB2 is not just an attractant. In fact, it has a TDN (total digestible nutrition) level that is higher than virtually all premium feeds. And a high level of protein. This brings the big bucks out and keeps deer coming back all season long.
Hi-Country
$500 Gift Card
Use this gift card to go shopping at Hicountry.com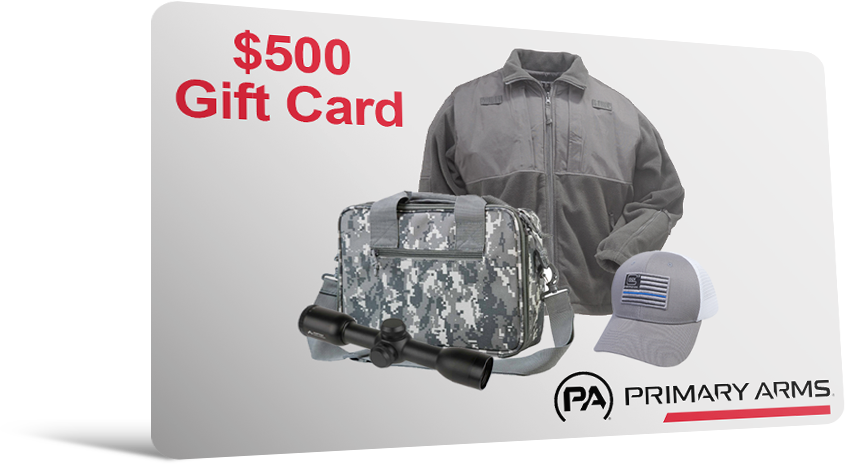 Primary Arms
$500 Gift Card
Primary Arms has what you need to keep your guns running. Ammunition, reloading equipment and accessories from well known brands coupled with fast shipping and world class customer service make you a big winner. Gift card valid only on Primaryarms.com
1791 Gunleather
$750 Gear Package
Get $500 in Branded Gear and $250 Gift Card to be used on 1791gunleather.com  Gear includes: 1791 Gunleather T-Shirts (2)  // 1791 Gunleather Hat // 1791 Gunleather LED Sign // 1791 Gunleather EDC Tray // 1791 Gunleather Gun Mat // 1791 Gunleather Custom Notebook Cover // 1791 Gunleather Whisky Set // 1791 Gunleather $250 Gift Card
Two Birds Outdoors
J&G 410 Shotshell 2.5″ 1/2 oz #8 Shot 500 Rd Case
The smallest of the collection. 10 grams of pellet and a 65 mm case for traditional shotguns; perfect for beginners.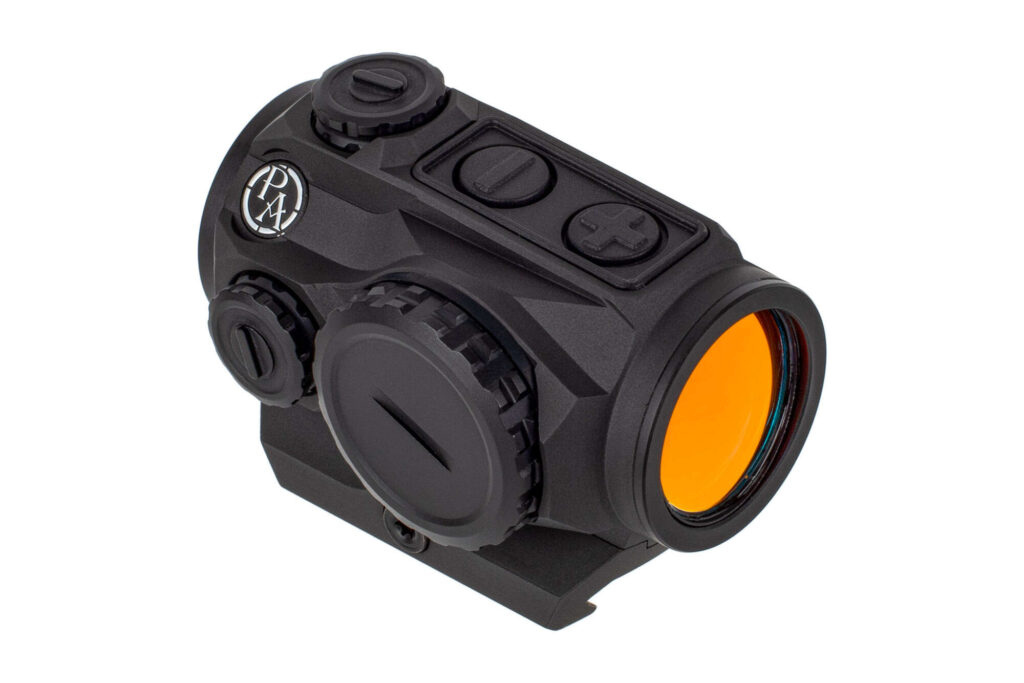 Primary Arms
Primary Arms SLx Advanced Push Button Micro Red Dot Sight – Gen II
This red dot sight is part of our SLx optics line. SLx optics built our reputation for innovation, reliability, and value. All SLx optics undergo rigorous field-testing during development to best serve you in any environment.
XDMan
Varmint Light 250 lumen, Green LED (no case)
Bright predator light for your favorite varmint rifle.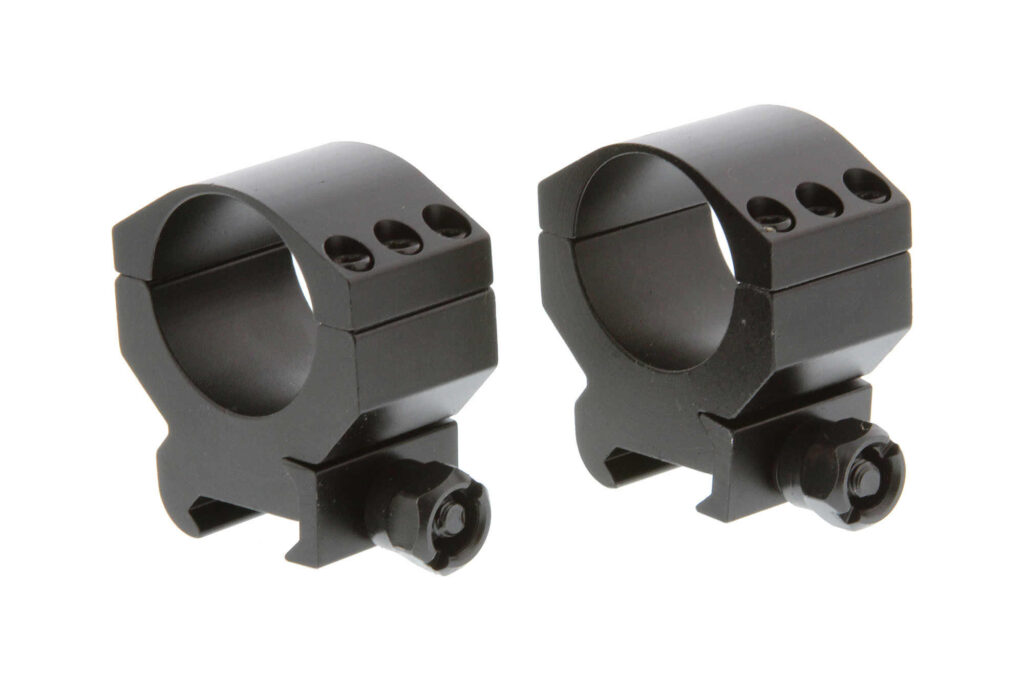 Primary Arms
Primary Arms 30mm Tactical Rings – Medium Height (Pair)
Primary Arms Medium 30mm Tactical Rings place the center of your 30mm tube scope 1.09 inches above your 1913 Picatinny rail or Weaver rail platform. Two rings are included, each held together by six Torx head screws. Constructed of high quality aluminum with a matte black anodized finish, these rings feature a lifetime warranty.