Extra! Get Your New Trump Commemorative Tommy Guns & 1911s Right Here!
"The Second Amendment to the Constitution is clear. The right of the people to keep and bear arms shall not be infringed upon. Period."
With this statement, Donald J. Trump, 45th President of The United States, reaffirmed his support for the gun rights of all Americans. President Trump continues to demonstrate his unwavering support for the right to keep and bear arms, and his determination to save America from those who seek to destroy her. Kahr Firearms group extends its gratitude to the president, by introducing the next two guns in the extremely popular line of Trump commemorative firearms. The Trump "Save America" Thompson is made from quality steel and American walnut. Detailed engravings depict President Trump, the Presidential Seal, "Save America 45th", the American flag, Liberty Bell, and Statue of Liberty. The finish is highly durable Sniper Gray Cerakote, with black controls. All features of the 1927 model Tommy Gun are included, along with 50 round drum and 20 round stick magazines.
The second new gun in the series is the "Trump Save America 1911". This GI style Auto-Ordnance 1911A1 is engraved with the President's motto, "Save America", his signature, an advancing American flag, an image of the Whitehouse, and the phrase "Promises Made, Promises Kept". The wooden grips feature the Presidential Seal, a "Trump 2024" campaign poster, and an image of President Trump. Each Save America 1911 is coated with Savage Stainless and Armor Black Distressed Cerakote. One seven round magazine is included. Both of these latest Trump Commemorative firearms are chambered in .45 ACP, and are entirely made in the United States with engraving by Outlaw Ordnance.
Justin Moon, CEO of Kahr Firearms Group, recently commented on the continued popularity of Trump themed firearms saying, "..sales of Trump themed firearms remain strong, and our vendors continually ask us for new models in the series. There are clearly many gun owners that support President Trump, and want to make a statement about their determination to see him return to the White House in 2024." Want a Trump commemorative pistol or rifle for your collection? You can find a dealer near you right here! But if you're more of a "no-logo" person, you can still win a Desert Eagle 1911 this month with our …
Spring '23 is sprung and so are we …
Other people can have their crocuses and robin redbreasts, but here at Guns & Gadgets Daily, the sound of spring is the echoes of shots reverberating. That's why we're stoked to launch our hottest new giveaway: The Ring in Spring $6.5K Guns & Gear Giveaway! This giveaway highlights four amazing firearms: Zev Technologies' AR15 Core Elite, Magnum Research's Desert Eagle 1911, a Stoeger STR9-F, and a Bond Arms derringer from GunPrime … plus a $995 gift card to 1791 Gunleather, Vortex optics, PACT timer, ATC AR Gold trigger, Ergo Grips, gear from MTM Case-Gard, and a 3-year Gold membership to the Personal Defense Network!
HERE'S WHAT YOU COULD WIN…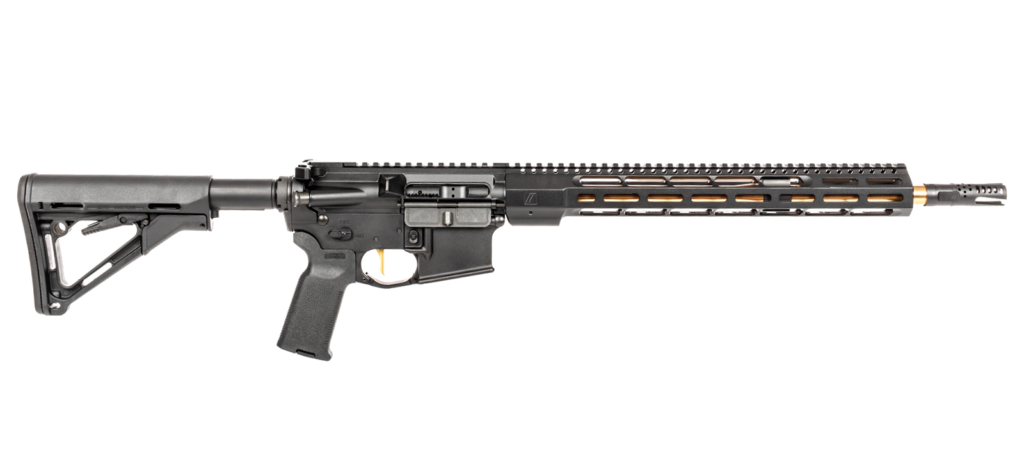 Zev Technologies
ZEV AR15 CORE ELITE RIFLE, 5.56 NATO, 16 INCH BARREL
The Core Elite 16 inch AR rifle is descended from the legendary Mega Arms. Sharing the same designers but with a ZEV spin on aesthetics, you'll find these AR15 rifles featuring a bronze 16 inch AR15 barrel offer incredible accuracy and reliability.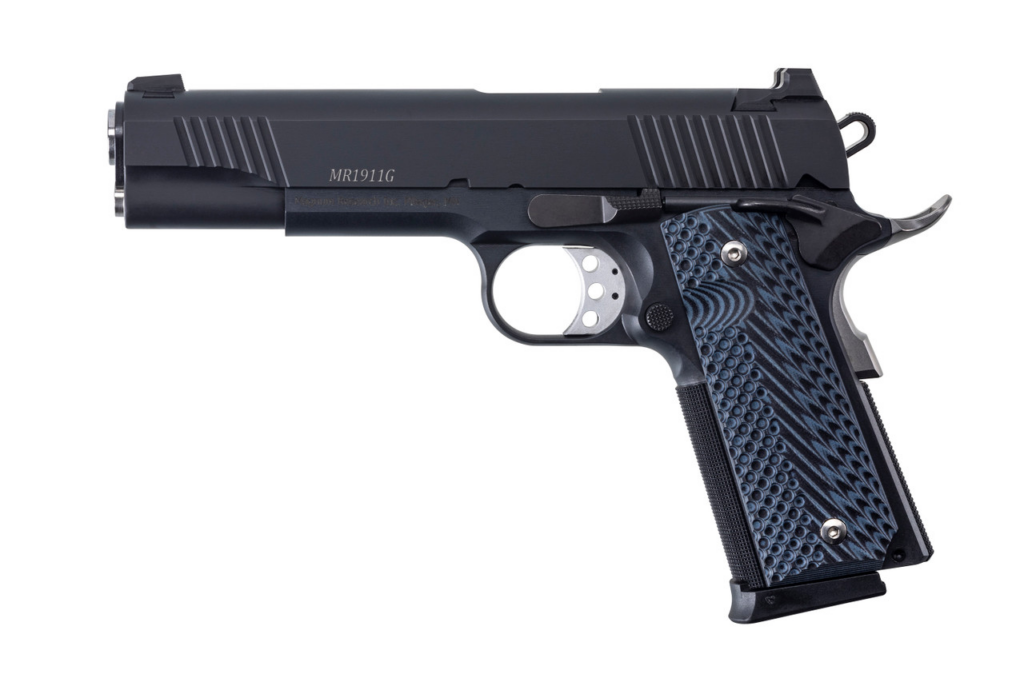 Magnum Research
Desert Eagle, 1911 G Model in .45ACP
Featuring all the timeless style of an American original and sharing the proud heritage of the legendary Desert Eagle, the .45ACP 1911 from Magnum Research comes fully equipped with the top-of-the-line custom features at basic model price that blows away the competition.

Stoeger
STR-9F Full Size Semi-Auto Pistol
Stoeger's STR-9 Model #31762 took the firearm industry by storm when it debuted in 2019 by demonstrating performance and features on par with pistols costing far more. It quickly earned a reputation for rugged reliability and accuracy. Now we offer this full-size version of our STR-9 strikerfired 9 mm packed with features that include an integrated rail, internal safety, reversible magazine release, optimized slide serrations, three-dot sight system and enhanced ergonomics, along with a 17+1 capacity. Enjoy consistent performance, dependability and comfort at a price that embarrasses our competition.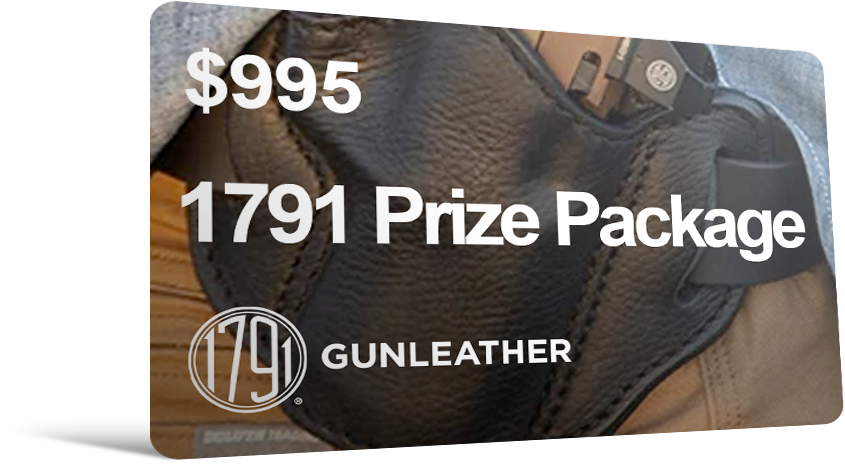 1791 Gunleather
1791 Prize package
1791 Gunleather is offering a prize package including: 1791 EDC Easy-Slide Large Flex Organizer  $50, 1791 EDC Action-Snap Small Flex Organizer  $50, Civivi folding Pocket Knife $100, Leatherman multitool  $100, Streamlight ProTac Flashlight $40, 1791 EDC Pocket Duo Organizer  $30, 2- 1791 Gunleather Gun Belt $130, 1791 Gunleather Ultra Custom Moldable Holster $100, 1791 Gunleather Fair Chase Holster $60, 1791 Gunleather, Premium Ballistic Nylon Holster  $30, 2- 1791 Gunleather Hats $50, 1791 EDC Tray $35, 1791 Gunleather Gun Mat $35, 1791 Gunleather Mag 1.2 Magazine Pouch $35, 1791 EDC Solo Snap Pouch $25, 1791 Gunleather Gift Card $125.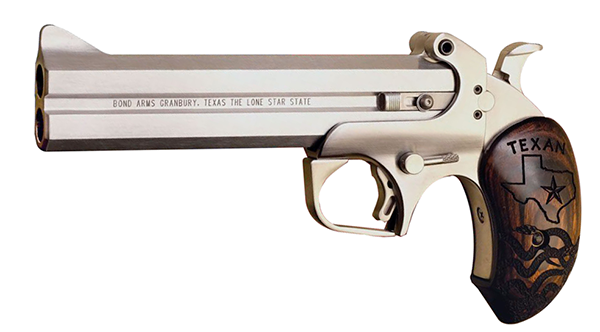 Gunprime
Bond Arms TEXAN 410 Ga / 45 Colt 6″ BATX-45/410 BATX-45
Bond Arms' intimidating TEXAN packs a big punch! Featuring a 6 inch barrel .410/.45 Colt barrel, the Bond Arms Texan is sure to impress! An extended rosewood grip features an outline of the state of Texas with a star as well as snakes criss-crossing at the bottom. The 6″ double-barrel is chambered to handle up to 3 inch .410 shot shells and .45 Colt.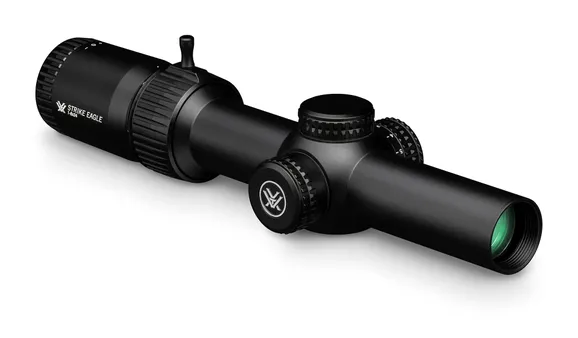 Vortex
Strike Eagle® 1-8×24
Optimize the versatility and quick-handling attributes of your AR with the redesigned Strike Eagle. A true 1x on the low end, Strike Eagle zooms to let shooters rapidly engage targets near and far, and an AR-BDC3 reticle aids in rapid shooting while providing holdover and ranging references from 0-600 yards. Plus, with a thread-in throw lever, you'll be on target even faster, shot after shot.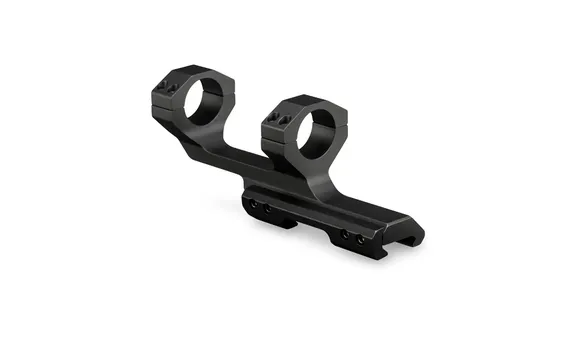 Vortex
Sport Cantilever 1-Inch Mount
Use this cantilever mount for mounting 1-inch telescopic sights onto flattop style AR-15 rifles. The offset of this cantilever mount positions the scope in a forward location, allowing the correct eye relief and head placement on an AR-15. Aluminum construction.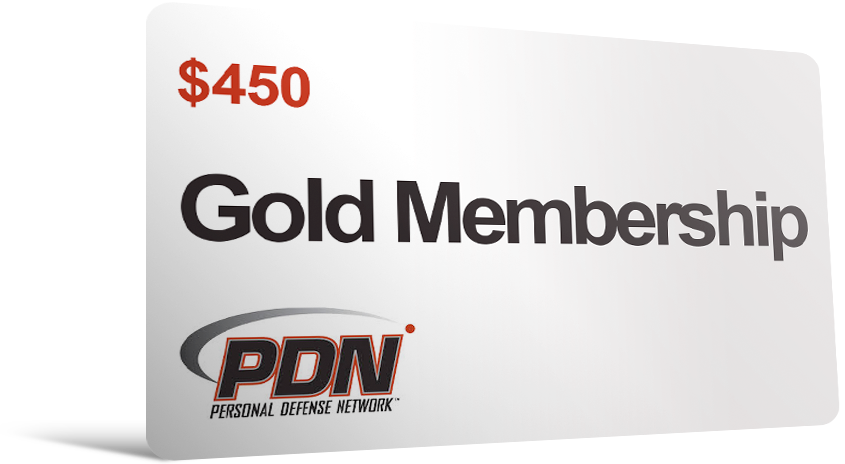 Personal Defense Network
3 yr PDN Gold Membership
Personal Defense Network 3 year PDN Gold Membership.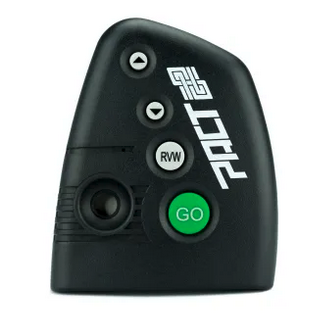 PACT
Club Timer III
The PACT Club Shot Timer III is an excellent shooting timer that is Guaranteed to Improve Your Shooting and help you beat your buddies. The Club Timer III, like all PACT products, is purpose-built by shooters for shooters, made by us right here in the USA and backed by a 30-Day Money Back Guarantee.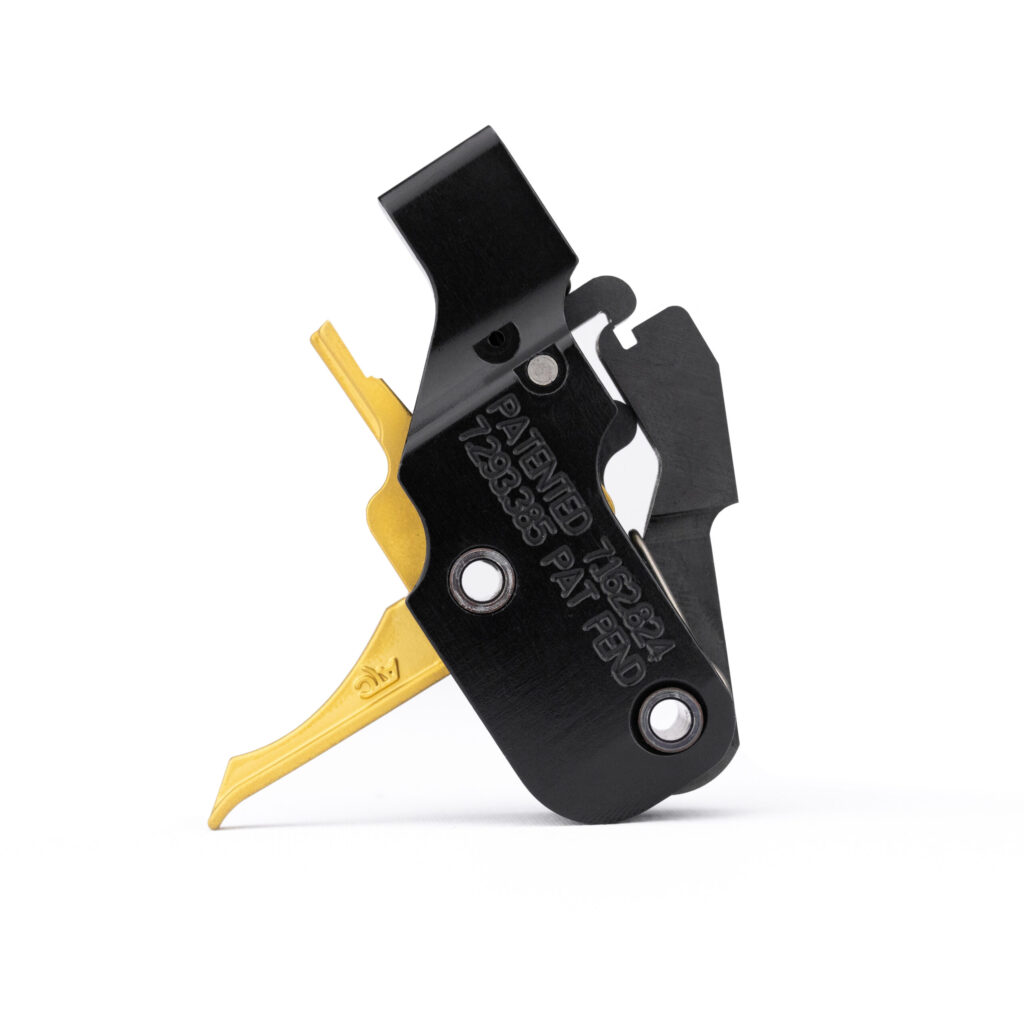 ATC AR GOLD
AR Gold Adjustable Trigger (AR-15, AR-10)
The AR Gold has been proven to be the ultimate AR Platform trigger for military, LE, competition, hunting and more. It is the singular best improvement to your AR-15. The AR Gold is a unique approach to the dated trigger functionality of stock AR-15's and other competitors. The AR Gold is a drop-in module trigger, which makes it a breeze to install.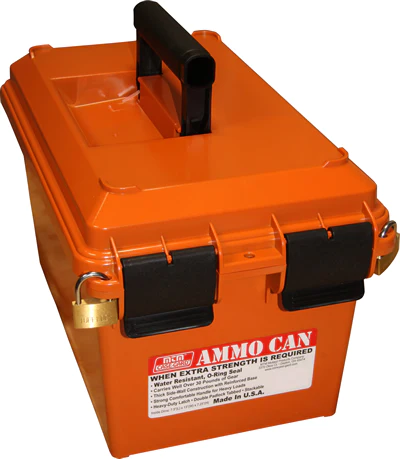 MTM Case-Gard
AC35 – Ammo Can
Close in size to the Big 50 Cal Ammon box, this O-Ring sealed ammo can offers the perfect solution to so many storage needs. Made to carry anything from bulk ammo to decoy weights to pet food. Our Ammo Can easily handles 30 pounds of gear in an easy to transport package. It provides excellent, water resistant protection along with extraordinary durability.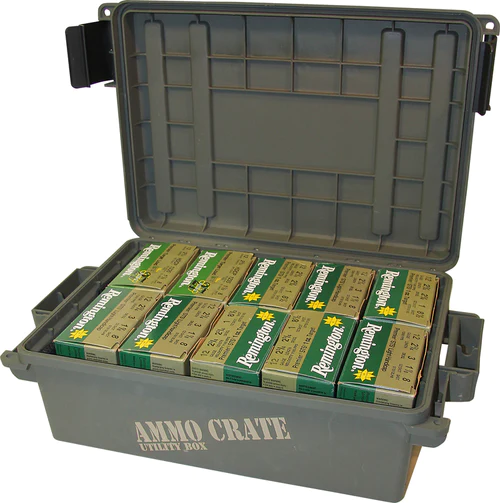 MTM Case-Gard
ACR4-18 – Ammo Crate Utility Box
Designed for ammo storage, although perfect for storing shooting, hunting or survival gear. Ideal for Shotshell storage with it holding 1 flat or 10 boxes of 12 gauge target loads.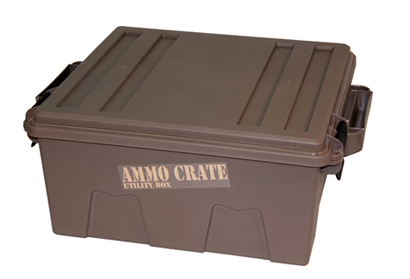 MTM Case-Gard
ACR8-72 – Ammo Crate Utility Box
Designed for ammo storage, but also perfect for storing shooting, hunting, or survival gear. Two extra strong handles make it easy to carry up to 85 pounds of gear. Designed to be stacked high, using molded-in stacking ridges.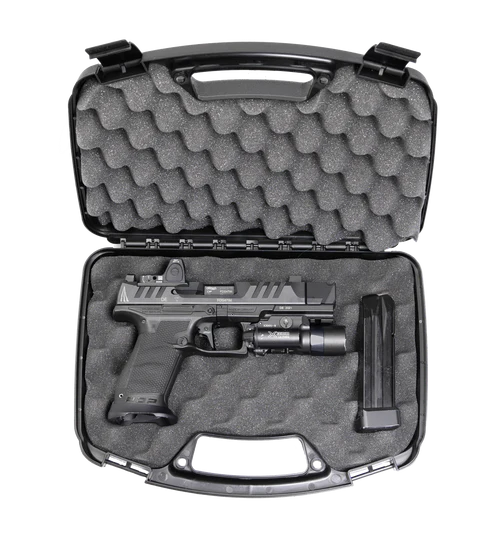 MTM Case-Gard
MTM Pistol Handgun Case
Case offers durable construction, stylish design, reliable snapping latches and a large comfortable handle. Made of rugged polypropylene with a scratch resistant finish. Thick foam padding and double padlock tabs are provided for the utmost in protective security. Thick enough for a trigger lock when traveling. Approved for law enforcement travel. Padlocks not included.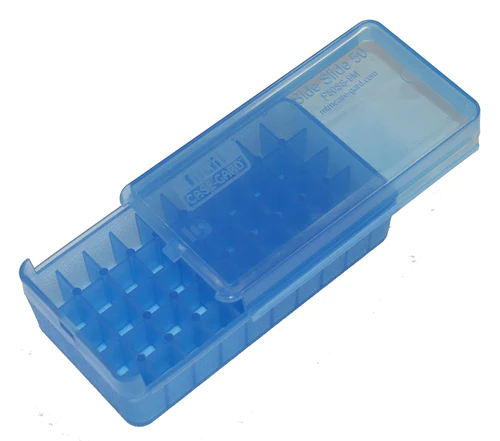 MTM Case-Gard
P50SS-9M – Pistol Side Slide 50 – 9MM
MTM's Side-Slide Pistol Ammo boxes let you quickly access or tip out precisely what you need. Made of clear plastic and built to last. Comes with load label and MTM's 25 year guarantee.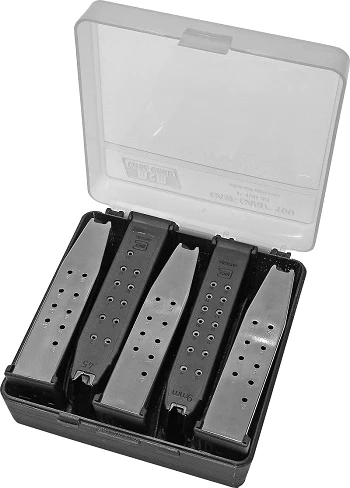 MTM Case-Gard
PMC5 – Compact Handgun Mag Case
MTM's Pistol Magazine Case offers compact protection for up to 5 standard double-stack magazines in an easy to view, stackable container.
For standard double-stack magazines up to 5.375" long. Keeps up to 5 double-stack magazines protected during transport. Clear-Smoke color so you can see what's inside without opening.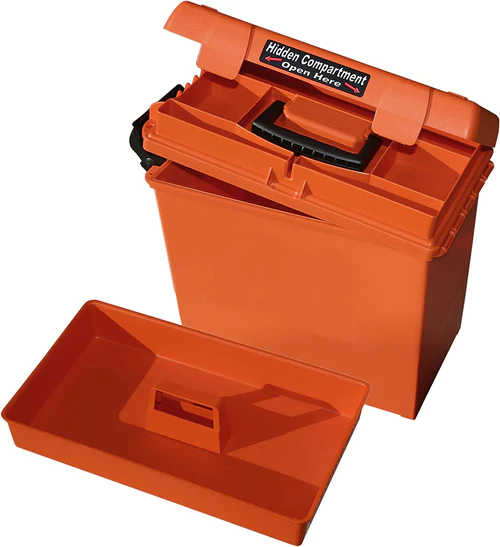 MTM Case-Gard
SPUD2 – Sportsmen's Plus Utility Dry Box
No wasted space here. The SPUD 1 & 2 features an 80% usable, top access lid compartment. The compartment contains five sectioned areas where you can keep your small items separate and safe. Many features including: water resistant O-Ring seal; five section lid compartment; full size lift out tray, large comfortable handle; thick sidewall construction; heavy duty latch; and double padlock tabs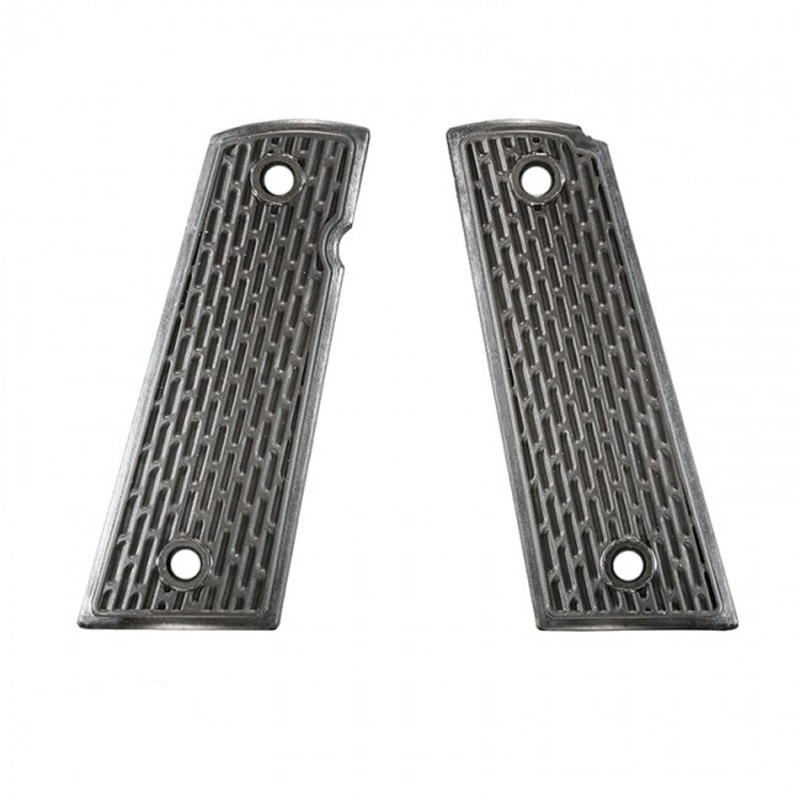 ERGO Grips
ERGO 1911 WARRIOR GRIP – SUREGRIP® (Black)
The ERGO Warrior Grip provides enhanced control of your Standard Frame 1911, even with the interference of moisture and debris.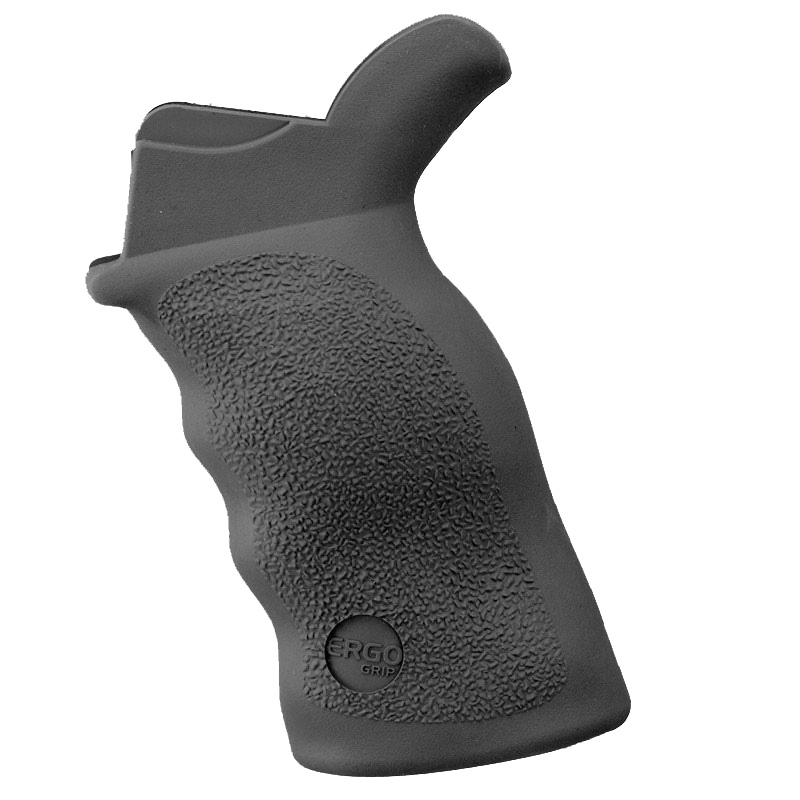 ERGO Grips
ERGO TACTICAL DELUXE GRIP – SUREGRIP® (Black)
The Tactical Deluxe is a larger more rounded grip than the original Ergo Grip providing exceptional comfort and control. This grip features hand filling palm swells for both left and right handed shooters.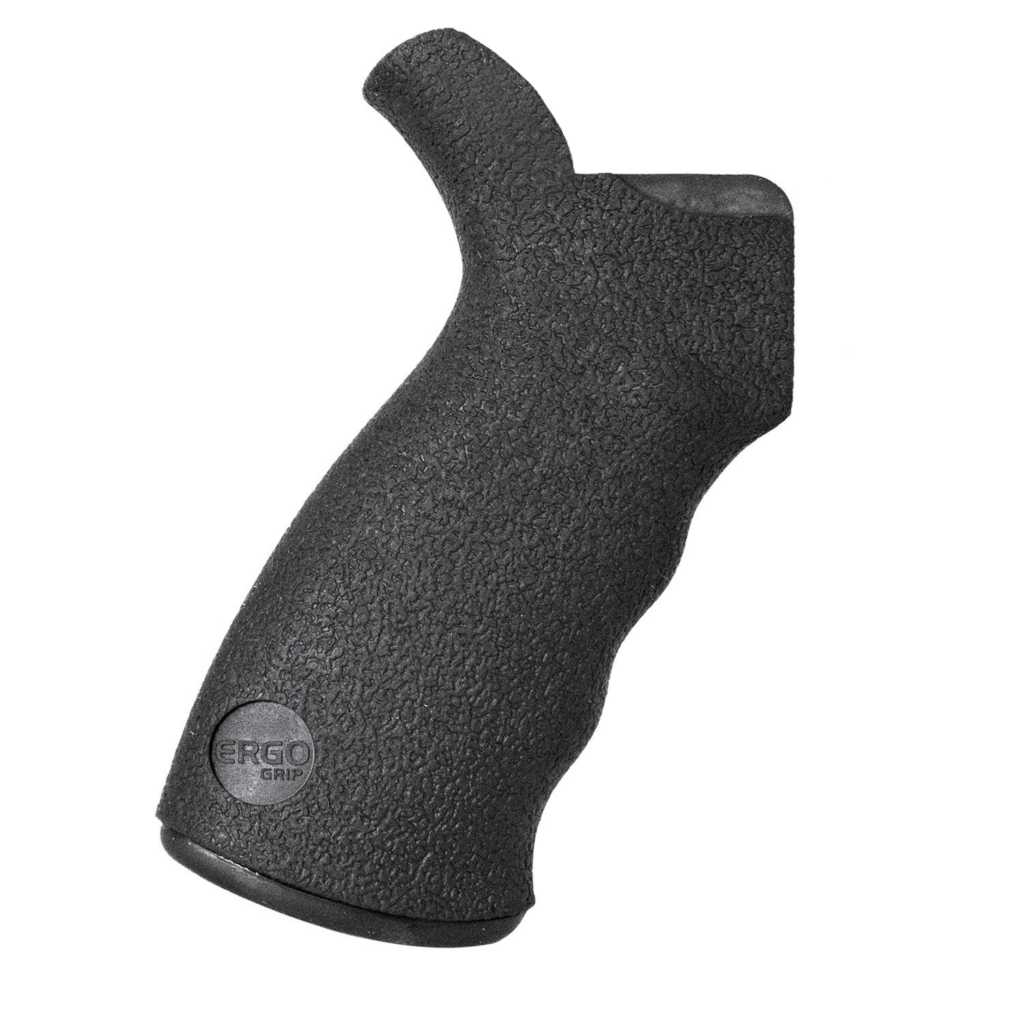 ERGO Grips
ORIGINAL ERGO GRIP AT (AGGRESSIVE TEXTURE) – SUREGRIP® (Dark Earth)
The Original ERGO Grip, designed for performance by creating a better interface between the shooter and firearm, the ERGO Grip is still the standard by which positive grip and shooter comfort are measured. The ERGO Grip comes with the proprietary Gapper™ for increased comfort. The 4009 comes with the Aggressive Texture (AT) that increases traction.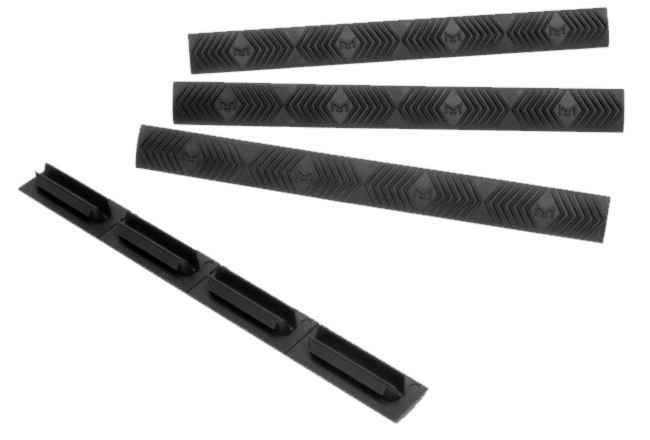 ERGO Grips
ERGO MODULAR WEDGELOK® RAIL COVERS – 4 PACK (Black & Dark Earth)
Rail covers fill in M-LOK® Compatible slots to add additional grip. Comes in a handy 4-pack. Chemical and heat resistant with a positive non-slip aggressive texture. Very low profile.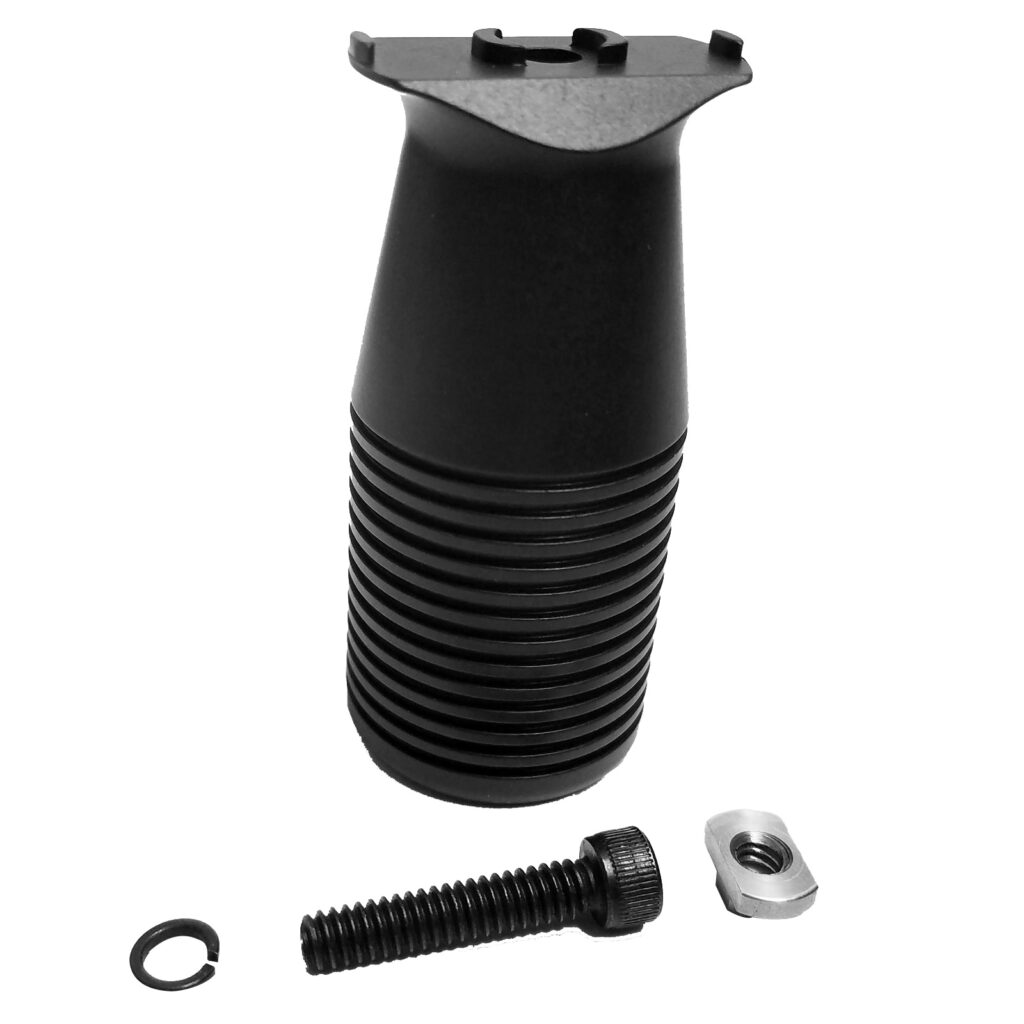 ERGO Grips
ERGO MINI MAX VERTICAL FORWARD GRIP (VFG)
M-LOK Mini Max Vertical Forward Grip (VFG) in BLACK